Yes, here we go again…
Just as the Super Bowl approaches and baseball's spring training follows closely afterward, sports news is being dominated not by positive, feel-good stories, but by a gaggle of new allegations against NFL and MLB stars for performance-enhancing drugs.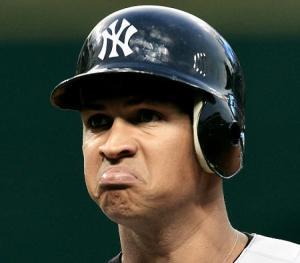 ARod won't be doing much smiling anytime soon.
First came news from Miami that a suspected PED-dealing doctor's files contained some big names. Once again we see Alex Rodriguez among the suspected cheaters. No surprise there. Melky Cabrera and Bartolo Colon, two players whose positive tests and subsequent suspensions made news last season, are also among those named…which certainly doesn't bode well for the others on the list. Gio Gonzalez, suddenly a 21-game winner last year, and Nelson Cruz, the 2011 ALCS MVP, are also on the list. And, along with these guys, others appearing in the files included the University of Miami's longtime strength and conditioning coach; a Cuban boxer; and a professional tennis player who has already been suspended from tennis for trafficking in HGH.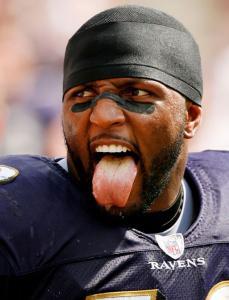 Ray Lewis: was his recovery legit?
And at the same time, in a separate story, news broke that Ravens linebacker Ray Lewis's miraculous recovery this season from a torn triceps may not have been so miraculous.
(Rodriguez and Lewis both attended the University of Miami, though long before the current strength coach was there. So have countless other professional football and baseball players, including major stars past and present.)
While Super Bowl week is now tainted with stories about Lewis's possible pharmacological aids, the Miami story sure sounds like BALCO 2.0, and it's only a matter of time before it mushrooms into suspensions, criminal charges, and lawsuits as players scramble for cover and lawyers start revving their engines. And surely it's only a matter of time before the Yankees try to void the rest of the aging Rodriguez's albatross of a contract, which will only lead to more dates in courtrooms rather than on ball fields.
A decade ago BALCO blew up, and its stench hung on sport for years, right up to and including this year's Baseball Hall of Fame voting. Just as it started to fade, finally, the Lance Armstrong debacle hits television and then the Miami story breaks. Here we go again. Is this what sport has become? Doping, rumors, investigations, suspensions, tarnished championships, soiled legacies?
What a shame. What an absolute shame.