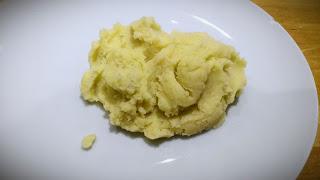 Ingredients
1 tsp peanut butter for every potato.
Preparation:
 20 minutes
Over the years I have shared many mash recipes on this blog. Whether potatoes or other root vegetables, whether herby, garlicky, buttery, cheesy, spicy or creamy - mashed potato is the food of the Gods. When I was recently sent some luscious Whole Earth peanut butter, I knew it would add a great salty richness to my mash. I tried this with and without adding regular butter and honestly it's delicious either way so this is vegan friendly.

1) Peel and cut the potatoes into chunks and bring to the boil in a pan of water. Leave to simmer until soft (about 20 minutes depending on how small you cut your potatoes) then drain away the water through a colander.

2) Using a potato ricer, masher or food processor, mash the potatoes and stir in a teaspoon of peanut butter for every potato before serving hot.