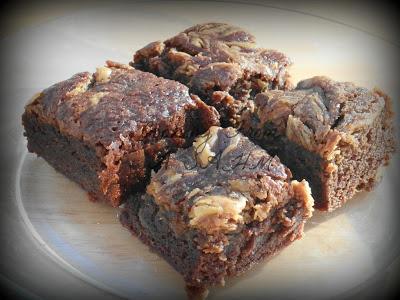 I'll be the first to admit that I buy boxed brownie mix when I want brownies. I've not really had a good homemade brownie. However, I've been stressed lately and wanted to play in my kitchen. So I created these brownies. They came out really good :-) 
Peanut Butter Pudding Brownies
1 1/4 C Sugar2 Eggs1/2 C Oil 1 Cup Chocolate Pudding already made
1 Tsp Vanilla 1/2 Cup Flour1/3 C Cocoa Powder1/4 Tsp Salt1/4 Tsp Baking PowderTopping:1/4 C Peanut Butter1 Cup Heavy Cream
In a bowl combine your sugar, eggs, oil and pudding. Set aside. In a bowl combine your cocoa, salt, baking powder and flour. Mix till combined. Pour into the sugar mixture. In a greased or parchment paper pan pour in your brownie mixture. Preheat oven to 350. In a bowl add your peanut butter and heavy cream. Whisk till combined. Drop by spoon fulls over brownies. Take a knife and swirl it. Bake for 30 minutes or until knife comes out clean.