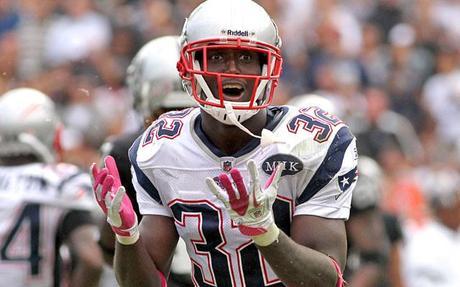 Photo: US Presswire
- Adam Parker
When the New England Patriots selected former Rutgers cornerback Devin McCourty in the first round of the 2010 NFL Draft, Bill Belichick and co. believed he would be the face and de facto savior for what was (and still is) a deplorable Patriots secondary.
After being thrust into the starting lineup as a rookie when veteran Leigh Bodden was lost to injury, McCourty did not disappoint.
Starting all 16 games, McCourty tallied an impressive 82 tackles, seven interceptions, two forced fumbles and 17 passes defensed. His efforts garnered him Pro-Bowl honors and a Second Team All-Pro selection. Not only that, but he was the only other defensive rookie to receive votes (2 out of 50) for the AP Defensive Rookie of the Year award besides eventual winner Ndamukong Suh.
Things seemed to be looking up for McCourty, and the sky appeared to be the limit for the young defensive back -- another gem of a draft choice by Belichick, and another feather in the cap for old BB.
Or, at least that appeared to be the case -- until McCourty's 2011 season.
McCourty was the victim of yet another sophomore slump that befalls so many young NFL players with high expectations early in their careers.
After exploding onto the scene in 2010, McCourty received more 1-on-1 responsibilities against the opposing team's top receiver in 2011. Needless to say, it didn't work out, and McCourty looked completely lost at times, getting beat often throughout the course of the 14 games in which he played.
He became so ineffective at corner, it reached the point that the team felt he was a liability.
McCourty eventually saw time at safety to help cover up for some of his apparent inadequacies.
Now the question is, coming off an underwhelming and disappointing 2011, can McCourty rebound and revert to his rookie form where he was touted as one of the best young cornerbacks to enter the league since Darrelle Revis?
No team in the entire league is in more dire need of stability and skill in the secondary at this point, and New England has all its chips on McCourty to return to form and help stabilize a young and inexperienced defensive backfield.
There have been rumors that McCourty would move to safety full time, but he's far too young in my opinion to give up on his potential at corner. No, my guess is he'll enter the 2012 season as the top cornerback on the Patriots' depth chart. Otherwise, the team will be looking at Kyle Arrington, second-year player Ras-I Dowling, Sterling Moore and veteran journeyman Will Allen.
Dowling is a question mark after an injury-riddled rookie season and Sterling Moore is just some random guy that the Patriots, looking for a miracle, brought in off the street and gave him a jersey, pads and helmet. Not exactly an inspiring group.
If McCourty can be above average again, he would make this ragtag bunch look infinitely better. He's the golden goose. The key to the whole reformation operation taking place in New England's secondary. He's smart. He's versatile. Now, he just needs to prove he's reliable.
Which Devin McCourty will show up in 2012? We here at Beard and Stache can't wait to find out.
Be sure to follow Beard And Stache on Twitter 
@BeardAndStache
, 
and also Adam 
@Adam_Parker43
, Like our Facebook page 
HERE
!