Hello all...
   Hope you all are pink in your health. From the title you know that the post is all about review of patanjali face wash.The climate is hot here and my oily skin secretes more oil and clogs the pore which results in breakout. So i thought to change my face wash in order to control my pimples. During one of my visits to patanjali store i came across this face wash and i bought it immediately since it has both neem and tulasi which is meant to cure pimples. So read on more to know more about the product.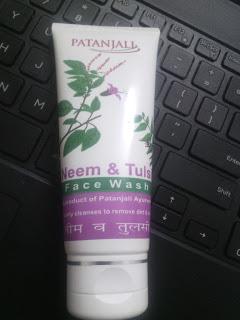 PRICE
Rs 45 for 60ml
CLAIMS
   This face wash claims to clear dirt and oil.It also claims to prevent pimples. It also claims that the face wash is soap free.
SHELF LIFE
2 Years.
MY EXPERIENCE
   When i started using this product, i was having pimples here and there all over my cheek. The face wash is of gel type and the color of the face wash gel is green. The face wash has mild artificial fragrance with doesn't bother me.The face wash comes in standard patanjali white flip flop tube. The face wash lathers pretty well.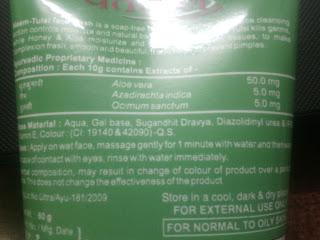 ingredients
   I used this face wash two times a day for 1 week and it reduced the size of my pimples.With regular usage it kept pimples at bay which is great at this price point. The face wash cleanses oil and dirt from my face pretty well and it doesn't dry out the skin and so dry skin girls may also use this. But the only drawback of this product is that it doesn't control oil secretion. My face turns oil within 2 to 3 hours so girls with extremely oily skin may not like it.
   Like all other patanjali products, this face wash is also not completely herbals, it has more amount of chemicals.
READ ALSO
Wild turmeric face masks.
How to treat acne scars?
Patanjali almond conditioner review.
Skin care routine for acne prone skin.
 PROS
Prevents and treats pimples.
Economical.
Travel friendly packaging.
Cleanses oil and dirt well.
Doesn't dry out the skin at all.
Has herbal ingredients like aloe, neem and tulasi.
Suits all skin types.
CONS
Not completely herbal.
Skin turns oily within few hours.  
OVERALL RATING 4.5/5