Hey all..
   Today am back with another review which is from the brand Dabur. I always like to use only herbal products for skin and hair care and so if anything claims to be herbal or natural am sold to it. As a beauty blogger i try various products for review purposes. So when i was in search for a mild herbal shampoo i came across Dabur vatika oil balancing anti hair fall shampoo. The ingredients made me to buy this since it claims to have hibiscus,henna, fenugreek. So read on more to know whether this shampoo is yay or nay.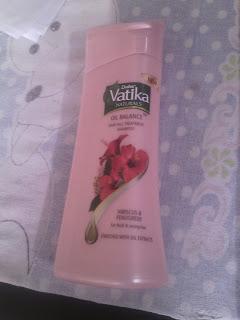 PRICE
Rs 45 for 80ml.
CLAIMS
   Oil imbalance may lead to hair problems such as dry hair and hence hair fall.New dabur vatika oil balancing hair fall treatment shampoo, with it's unique oil balance formula helps treat hair fall,thinning and breakage thereby giving thick,strong and healthy hair.
SHELF LIFE
   2years
MY EXPERIENCE
   I bought this shampoo with great expectation since it claims to treat dry hair and reduce hair fall. I don't have hair fall at present but i expected it to treat my dry hair. The shampoo comes in pale pinkish red bottle that has all necessary information. The shampoo itself is pale pink in color with pleasant fragrance. The shampoo lathers pretty well and cleanses oil and scalp.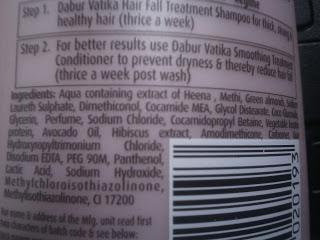 ingredients
   Now talking about the performance of the shampoo, am very disappointed with this shampoo. The shampoo made my dry hair even more drier. I always give hot oil massage to my hair and leave it over night and wash my hair next day with the shampoo. Even after oiling, this shampoo made my hair drier. I usually lose  5 to 10 hair strands while washing my hair but while using this shampoo I lose 15 to 20 hair strands.Overall this shampoo does nothing what it claims.
   Now talking about ingredients, it claims to have hibiscus, green almond, henna,avocado oil but it has large number of harsh chemicals in it. Though it claims to be herbal,it has SLS.
PROS
Economical.
Travel friendly packaging.
Has natural ingredients.
Suits oily scalp and oily hair well.
Pleasant fragrance.
Lathers pretty well.
ALSO READ 
Homemade shampoos for all hair types
CONS
Makes hair drier.
Doesn't control hair fall.
Has harsh chemicals like SLS
   OVERALL RATING 3/5