Hey all..
   Today am going to share my experience with 'yami herbals' hair pack. Yami herbals is an herbal brand that offers 100% herbal bath powder, hair pack, face pack and orange peel powder. I came to know about this brand from their fb page. Their products are 100% natural and they are very effective also. The products also comes with affordable price tag. The products are homemade and fresh batch of products are delivered to the customers so the freshness of the products remain until we finish the products. Most of the natural brand doesn't reveal the complete ingredient list but yami herbals gives complete ingredient list so the brand is very trustworthy and we can assure that it is 100% natural. So read on more to know how the product worked for me.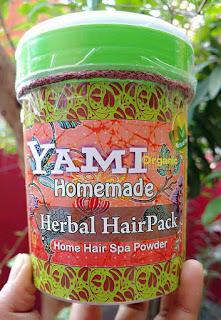 PRICE
   Rs 180/- for 100gm.
SHELF LIFE
   1year.
AVAILABILITY
   You can buy it from yami herbals fb page or you can whatsapp them at this number 7358813032. They will deliver the product from the freshest batch.
INGREDIENTS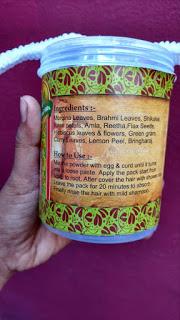 REETHA
- It makes hair shiny and removes excess oil.
SHIKAKAI
- It prevents and treats scalp infection and it increases hair growth rate and makes hair stronger.
AMLA
- It prevents premature graying and increases hair growth rate.
MORINGA LEAVES
- It is rich in iron and thus promotes hair growth.
BHRAMI LEAVES
- It acts as a natural conditioner.
ROSE PETALS-
It tightens scalp thus making hair roots stronger.
HIBISCUS LEAVES AND FLOWERS
- Increases hair growth and makes hair shiny and smooth.
FLAX SEED
- It has omega 3 and thus makes hair shiner and smooth.
GREEN GRAM
- It prevents split ends.
CURRY LEAF
- Increases hair growth and prevents gray hair.
LEMON PEEL
- It cleanses scalp and treats dandruff and oily scalp.
BHRINGARAJ
- It helps to make hair longer and thick.
   From the ingredients we can know that this hair pack is all in one hair pack. It helps in premature graying, hair fall, dry hair,split ends,dandruff problems, oily scalp.
MY EXPERIENCE
   The hair pack comes in a sturdy green color airtight container with a  spoon and fabric shower cap. The hair pack is of brown in color. As soon as i opened the container, the aroma of mixed herbs pleased me. The hair pack is finely powdered and it has good herbal aroma. The container is sturdy and thus the packaging is travel friendly.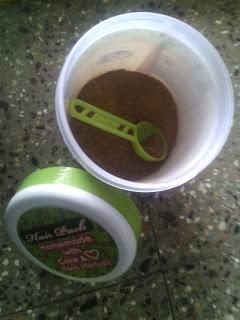 I have dry and frizzy hair which prone to split ends. Recently am having mild dandruff problem. I took 4 spoons of hair pack in a bowl and mixed it with egg and curd. Then i applied it all over scalp and hair length and then tied my hair in a bun and covered it with shower cap. Then i left it for 30 minutes and then washed my hair with my shampoo and skipped conditioner. Post washing i was happy with the result.
   My hair felt soft and silky and frizziness was reduced to great extent. My dandruff has reduced in 1st wash itself and while shampooing my hair i had very few hair strands in my hand. This hair pack actually hydrated my hair strands. From the first usage itself am impressed with this hair pack. Though i add egg, it didn't smell bad since the aroma of hair pack is pleasing. Post wash my hair smelt pleasing. With regular usage i think, this will prevent split ends also. The hair pack will work the same even if we mix it with plain water instead of curd and egg. Since the hair pack itself powerful to treat hair related issues .
PROS
Organic.
Completely herbal product.
Reduces frizzines.
Hydrates hair strand.
Removes dryness from hair.
Effective on dandruff problem.
Travel friendly and sturdy packaging.
Affordable.
Helps in reducing hair fall.
Has goodness of amla, shikakai, bhringaraj, bhrami and many herbs.
Cures itchy scalp.
Effective from 1st usage itself.
CONS
   Overall the hair pack is a very good organic product that suits all hair types . It is very good option for people suffering from dandruff, split ends, frizziness, hair fall. It is also useful for people with thin hair also. I would recommend to try it atleast once since it doesn't disappoint you at all. You can buy it from yami herbals fb page or you can whatsapp them at this number 7358813032. They will deliver the product from the freshest batch.  
OVERALL RATING 4.9/5
(-0.1 for availability only through online but that is not a major con at all)