Hello sweeties...
   Today am back with review of an affordable foundation. I am not regular in posting since i have busy schedule.so Apologize me for this and i try my best to concentrate on this blog. OK coming to review am going to confess 1 thing to all my readers that am not at all makeup person since i always fear that cosmetics will break out my skin.
 Earlier i tried fair and lovely bb cream the result was ghosty face with break outs on the next day. I have used lakme perfect liquid foundation earlier and it doesn't broke me out. so I thought why not to try a foundation. And i bought some stuffs from nykaa 2 weeks back and i will review all of them soon. I thought to buy some affordable products for daily use and so i thought to buy blue heaven x factor foundation. I read good reviews about it in 2 blogs and so i placed my order.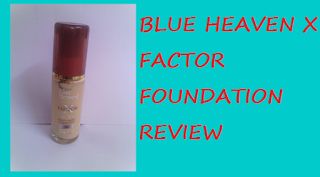 CLAIMS
   Blue heaven's all in one basic beauty foundation is a creamy foundation with full coverage.It's a perfect choice to conceal imperfections and correct the uneven skin tone. A perfect base for a true make up. A must component for every makeup kit,specially developed formulation for face and body to provide you a youthful glow.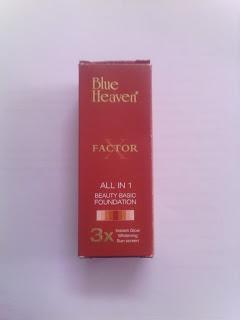 PRICE
Rs 125 for 30ml.
INGREDIENTSSHELF LIFE
3 years.
SHADES
   The shades available are natural and blush. I got the shade natural since it has yellow undertones. Blush is for people with pink undertones.
MY VIEWS
   Blue heaven X factor foundation comes in glass bottle with pump dispenser. The glass bottle is placed in a outer carton that has all the information. The cap of the bottle is not sturdy and thus the glass bottle is not travel friendly.
   The shade natural has yellow undertones in it . The foundation is creamy in texture and it is not either thick or runny, the consistency is perfect for blending.The foundation has fragrance that is similar to Johnson's baby lotion.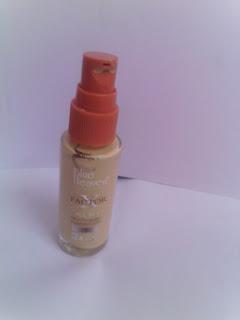 I dot the foundation all over face and neck and blend it using fingers, sometimes i use sponge for blending. The foundation gives natural finish in both the techniques.It doesn't look cake(y) at all.The shade suits me well and it conceals my dark circles well (though i don't have very dark under eye circles).
   The coverage that the foundation gives is medium. It doesn't hide acne scars.After blending, the foundations gives matte finish to face. The foundation also have sunscreen in it which is also an added advantage.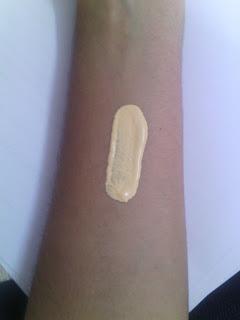 swatch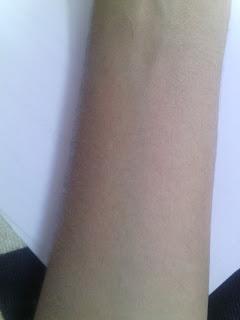 After blending without flash
   The staying power of this foundation is really very good for this price tag. I moisturize my face and then apply
patanjali saundarya aloe vera gel
all over my face and then i apply this foundation. The foundation stays on my face for a good 6 to 8 hours in this hot climate that too in my oily skin. My skin remains oil free for a good 5 hours which makes it a good choice for oily skinned girls. I have used this foundation nearly 6 times and it doesn't break me out which is also an added advantage.Overall am impressed with this foundation.
PROS
Economical.
The shade natural suits most of the skin tones with yellow undertones.
Easy to blend.
Gives natural finish, it doesn't form whitish cast.
It doesn't look cakey.
It controls oil for 5 hours.
It stays for 6 to 8 hours in this hot climate.
It has pump dispenser.
It doesn't break out.
It evens out the skin tone and it also has sunscreen in it.
CONS
Packaging is not travel friendly.
Only 2 shades available.
Doesn't hide scars.
Does not suit dry skinned girls.
ALSO READ
Fair and lovely bb cream review
v care vitalizer review
Homemade eye shadow primer with pictures.
  

OVERALL RATING 4.8/5