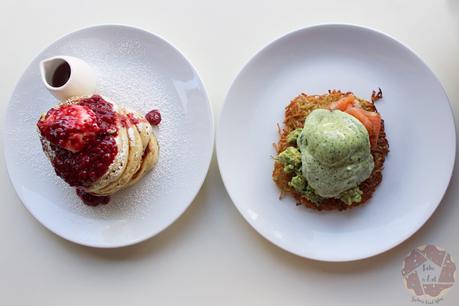 Parc Cafe is located on Clovelly Rd, just around the corner from Centennial Park, and is nestled among residential homes. Parc Cafe has a clean and minimalist theme to it but there is food is far from minimal, it is packed full of flavor and style. On a sunny Thursday morning my friend and I decided to make a little trip down to Parc to grab some brunch. The menu isn't as extensive as some other cafes but we were still having a hard time deciding what to order. We ended up ordering one sweet dish and one savoury dish- win win! We got the buttermilk pancakes and the potato cake and both dishes were winners in my eyes!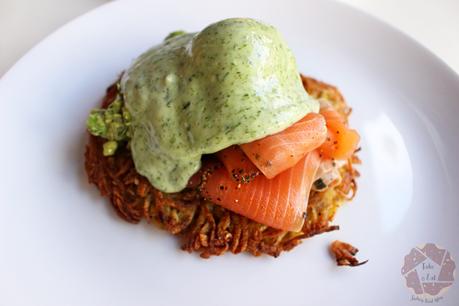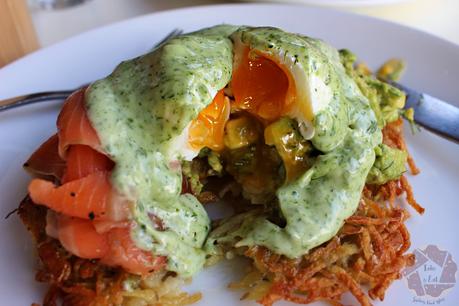 Potato Cake | w/ gravalax, poached egg, avocado & herb aioli | $24

The only thing that was holding my back in ordering this dish was the price attached to it. It is quite pricey for what you get but for some reason I could overlook that after tasting it. There was generous amount of salmon, avocado and herb aioli. The herb aioli was the perfect sauce for this dish, it was tangy and creamy and complimented everything very well.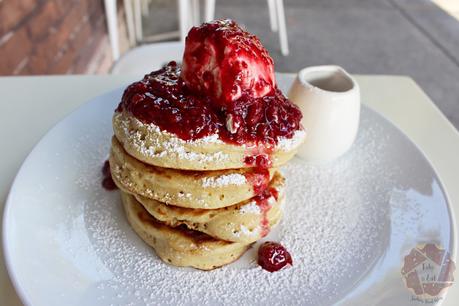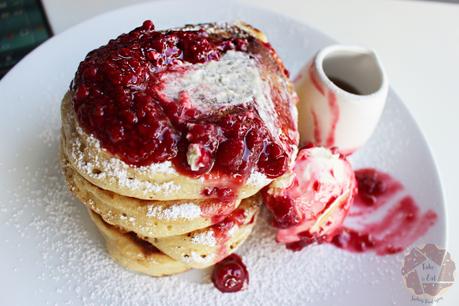 Buttermilk Pancakes | w/ raspberries and mascarpone | $17

Say hello to this tall, ridiculously good looking stack of buttermilk pancakes! *waves* These pictures might make the pancakes look small but the size of these pancakes were massive and we struggled to finish it. There is a generous amount of raspberries, mascarpone and syrup so your pancakes won't be dry or tasteless. The pancakes were extremely fluffy with a nice crunchy exterior. I would highly recommend that you order this.. to share with a friend or two... or you could have it all to yourself :P Treat yourself right?
Overall, the dining experience at Parc Cafe Randwick was pleasant. The service was efficient, there was limited interaction with the staff so I can't really make a judgment if it was good or bad service but definitely it was quick service. There is also quite a lot of parking on Clovelly Rd and off onto smaller streets. There is also quite a lot of seating inside and outside but most seats were filled at around 11:30- 12pm on Thursday morning, so I believe on a weekend it would be quite full so get in nice and early! Looking forward to seeing what Parc Cafe will come up with in the next few months- all the best!
Happy eating x