I can just see this idea being used in a classroom with each child decorating a paper plate in their own beautiful way, and then them all wrapped in cellophane and covering a wall.
You will need 2 paper dinner plates, a sheet of clear cellophane, red markers or something else to decorate your plates and a glue stick and sticky tape.
Decorate the underside of just one plate to look like candy if it will be displayed on the wall, or two plates if they are used for decorating something like a big tree.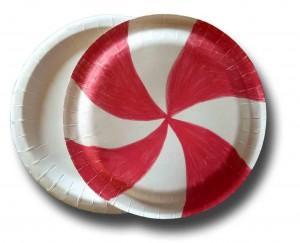 Glue the plates together around the rims.
Wrap the plates in the cellophane to look like a candy wrapper. You may have to cut the cellophane to size.