A great result from all the paper crafting the children have done over the years – paper crafted homework ideas are easy to come by and easy to do!
And they have an enthusiastic helper in me – well I was not allowed to help too much, but I happily tore paper up and gathered materials.
Assignment one – communicate your interests visually. Football is one of the interests, so he made a papier mache football with interests drawn and written on it.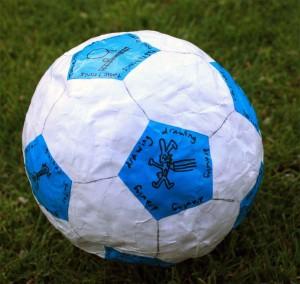 Assignment two – display an idiom.
She chose 'Put Your Foot in Your Mouth' and also used papier mache in a covered shoe box.