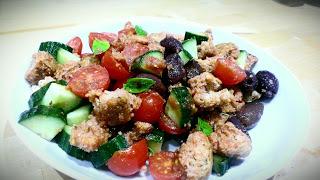 Ingredients
1 tbs Passata, 2 tbs basil oil, 1 tsp red wine vinegar, 1 tsp honey. Cherry tomatoes, cucumber, basil, old bread, kamalata olives



Preparation:

 5 minutes
Panzanella goes back to the 16th century, but it wasn't until the 20th century that this Florentine version emerged: stale bread soaked in oil, vinegar and tomato with herbs and mixed with salad. Back in the day - only onions were used, not tomato. And given that I loathe uncooked onions with a fiery passion, I am very glad indeed that it's no longer the 16th Century! You know, that and smallpox. I serve mine with cucumber, olives and cherry tomatoes but you can of course use salad leaves or other fruits and vegetables if you wish. I save my heels of bread and make this for a quick supper or a scrummy lunch.

1) To make the dressing, combine the oil, vinegar and passata and season to taste. I like to add a little honey to cut the acidity of the vinegar but this depends on what you are mixing into your salad of course! If you're vegan, you can use an alternative.

2) Tear the bread into bitesize chunks. I have done this with the leftover heel of ciabatta, spelt bread, you name it - any crusty loaf will do. If all you have is sliced bread or you don't bake your own, then I would recommend toasting the bread first.

3) Stir the bread into the dressing and stir in the other ingredients. Serve immediately. If you'd like this as a packed lunch, make up a little jar of dressing, a foil wrap your chunks of bread and keep them in your box of salad to prepare just before eating.