Paneer Butter Masala is very rich, creamy Paneer Dish. I always asked this dish in restaurants and today I have made this restaurant dish at home. Everybody loved this dish when served with Jeera Rice.

I never know that the color of this dish should come from ripened tomatoes. I was thinking they must be putting food color to give that glow. But you can see this pictures and this color is came from tomatoes. Amazing !!!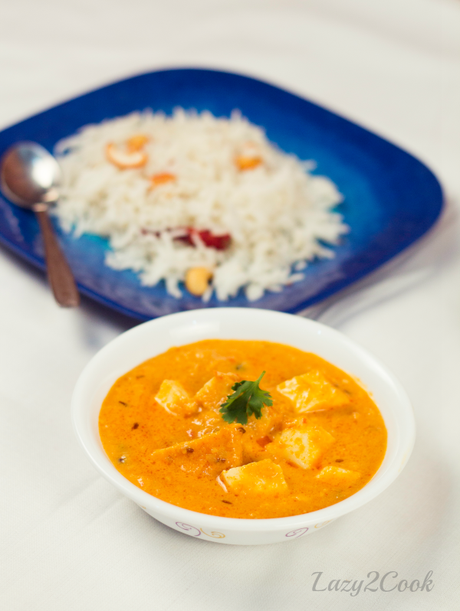 This dish is totally healthy, coz I have used homemade Paneer and lots of butter. I know some health conscious people will not like this dish, but you know last time I made with low fat butter and avoided milk cream and cashews. Paneer is very healthy and good source of protein and calcium. So I won't avoid that. Enjoy this dish sometimes when you want to make a special day !!!

1 cup / 250 gms Paneer (cottage cheese) cut into cubes
4 tbsp butter
1 tsp. oil
2 bay leaves
4-5 cloves
2 one-inch cinnamon sticks
2 tbsp coriander seeds, little crushed
1 medium onion ,sliced
5-6 medium tomatoes, chopped
1 tbsp ginger-garlic paste
1 tbsp red chili powder
1 tsp. coriander powder
3-4 tbsp cashew paste
2 tbsp fresh cream / homemade malai
salt to taste
1.If you are using frozen paneer cubes, then defrost them.

2.Soak 8-9 cashews in warm water for 10 minutes and then make a paste. Keep it aside.

3.Heat 3 tbsp butter with 1 tsp. oil in pan. Add bay leaves, cloves, cinnamon and coriander seeds. Saute for 1-2 minute.

4.Add onion and sauté for 1 -2 minutes till it become golden. And add ginger garlic paste and cook for another minute.

5.Add tomatoes into it and mix it well. Add red chili powder, coriander powder and cook for few minutes. Also, add cashew paste with it, so it will also get cooked.

6.Cook till masala starts leaving oil on sides and put off the heat. Puree the mixture.

7.Add remaining butter in a pan and put the above onion-tomato mixture into this pan and let it cook for 4-5 minutes.

8.Add fresh cream and 1/2 cup water and salt and cook for 2-3 minutes. Adjust water consistency by slowly adding water, because paneer butter masala is little thick gravy dish.

9.Add paneer cubes and cook for 2 minutes till you get the gravy consistency. Garnish with coriander or mint leaves.