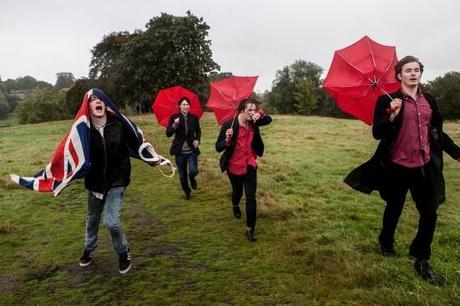 Currently based in Lambeth, London; Palma Violets are this weeks free offering from iTunes. These guys haven't been together all of 5 minutes and they're already creating a storm. The foursome: Sam, Chilli, Peter and Will, met around a campfire at the Reading Festival and spent all of 2012 writing and recording. They were quickly snapped up by Rough Trade Records, have been named Zane Lowe's Hottest Record and have already been voted NME's track of the year.
They now present us with a sound that made me question their age when I first heard it. The vocals hark back to early 90s brit pop and the likes of Blur, and their overall sound makes me think of 60s and 70s british rock.  Tom the Drum has a punchy opening that makes me want to watch Quadrophenia. With heavy, muddy guitar chords and a vocal that sounds as if it's coming through a speaker phone I feel like I've been transported back to the 60s.
However the track is short lived and doesn't really climax anywhere in particular. So to get a good idea of Palma Violets I also suggest listening to Best of Friends (the track Zane Lowe loves!) it has much of the same sound, that mix of 90s and 60s british pop rock, but will definitely give you a better idea of their sound.
The only thing I hope is that these guys don't do an Arctic Monkey's and become stale and boring by their second and third albums. Fingers crossed their next album develops their sound further and doesn't stay stuck .
-TWSH
Download Tom the Drum and 180