Homemade Paleo Whole Grain Mustard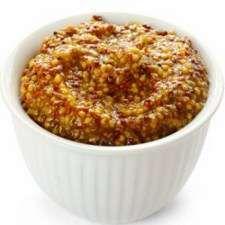 Serves 8
Prep time 12 hours
Cook time 10 minutes
Total time 12 hours, 10 minutes
Dietary Diabetic, Gluten Free, Vegan, Vegetarian
Meal type Condiment
Website Primal Primos
Ingredients
1/4 cup white wine vinegar
4 teaspoons mustard powder
1 cup white wine (or water)
1/4 cup brown mustard seeds
1/4 cup yellow mustard seeds
pinch salt
Directions
Step 1 Start by soaking your mustard seeds in either the white wine or water overnight. Soaking the seeds will allow them to hydrate and break-down some.
Step 2 Place the seeds, along with their soaking liquid, mustard powder, vinegar and a pinch of salt in a blender and pulse until the desired consistency.
Step 3 Place in a jar or container and allow to refrigerate for 5-7 days.