Paleo Taco Salad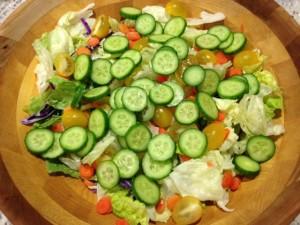 Ingredients
2 heads Romaine Lettuce (Chopped)
1 medium Cucumber (Sliced)
8oz Grape Tomatoes (Cut in 1/2)
1 Carrot (Peeled and Chopped)
1 medium Avocado (Diced)
1lb Ground Turkey
8oz Tomato Sauce
1 tablespoon Ground Chili Powder
1/4 teaspoon Garlic Powder
1/4 teaspoon Onion Powder
1/4 teaspoon Red Pepper Flakes
1/4 teaspoon Dried Oregano
1/2 teaspoon Paprika
1 1/2 teaspoon Ground Cumin
1 teaspoon Salt
1 teaspoon Black Pepper
Directions
Step 1 Brown turkey. Add tomato sauce and all spices. Simmer for 15 minutes and let cool.
Step 2 Toss lettuce, cucumber, carrots and tomatoes in a large bowl.
Step 3 Serve seasoned meat over salad and top with avocado.
Step 4 Drizzle with Paleo Salsa as dressing and serve with Paleo Tortilla Chips. Enjoy!
Note
Substitute Paleo Salsa instead of tomato sauce for an extra kick of flavor.
Paleo Salsa
Ingredients
4 large Tomatoes (Quartered)
1 large Onion (Red, White or Yellow) (Skin Removed and Quartered)
1 bunch Cilantro (Removed from Stem)
2 medium Limes (Juiced)
4 teaspoons Minced Garlic
1 teaspoon Kosher Salt
3 Habanero or Jalapeno Peppers (Seeded and Deveined)
Directions
Step 1 Put all ingredients in food processor or blender and pulse until desired consistency is reached.