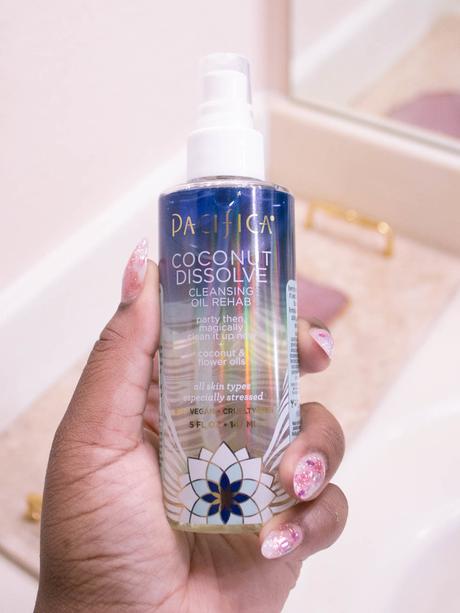 I recently picked up the Pacifica Coconut Dissolve, oil cleansing makeup remover. I am no stranger to oil cleansing and have had the practice of it in my skincare routine for several years now. I decided to pick this one up because it was not only cruelty-free and vegan, but also it was under $20. I have a few higher-end cleansing oils in my Sephora basket that are over $30 and up. One of my favorites being the Dermalogica Precleanse Balm which will cost you $45 if purchased. How does one a third of the price compare?
I have been using the Coconut Dissolve as a first cleanse/makeup remover for a little over a month now, it melts makeup on contact and I find that I don't have to spend much time massaging my face to get everything liquid. My skin is fairly sensitive and I've had no irritation at all using this oil. The ingredients are pretty simple, it's a blend of three different oils. Sunflower, Safflower and Coconut oil are what are blended together to make Coconut Dissolve. Coconut oil is the third oil listed which means it has the smallest amount in, as the first few ingredients usually makeup the most of the formula. Since there aren't a lot of ingredients the fact that the titled ingredient isn't first doesn't really bother me.
The Pacifica Coconut Dissolve is very lightweight in consistency which I think those who are new and apprehensive to using oil will like as it won't feel thick and greasy.
Would I repurchase?
For the value it's not bad at all, but I'd personally prefer just to buy a bottle of organic coconut oil or almond oil as you get more product for the same price. When I'm purchasing name brand cleansing oil I like a little more custom formula with exotic and essential oils for a more luxe experience. This is very straight forward and simple which is great for an introduction into cleansing oils. For those like me who have been around the block with oils I don't think you'll be blown away with this one.
I bought mine from amazon as they had the best price (it was on discount at the time), plus with my prime membership I received 2-day shipping.
shop on amazon: https://amzn.to/2xqiNfc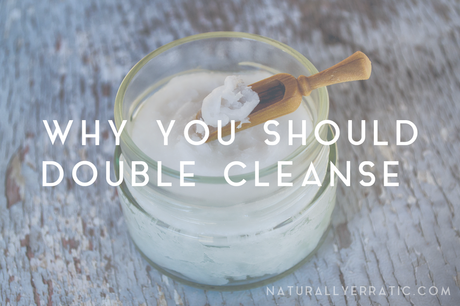 double cleansing
Using an oil as you first cleanse helps breakdown and remove you makeup without drying or irritating the skin. Oil cleansing also can help soothe acne prone skin and balance out oily skin. Oil pulls oil and dirt from the pores providing a deep yet gentle cleanse.
After oil cleansing I go in with lightweight cleanser that is sulfate free. My favorite right now is this one from Derma e https://amzn.to/2J3Bj3t .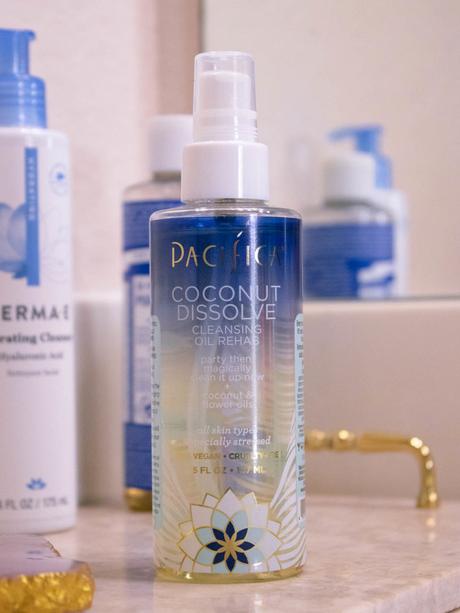 Are you a fan of oil cleansing?