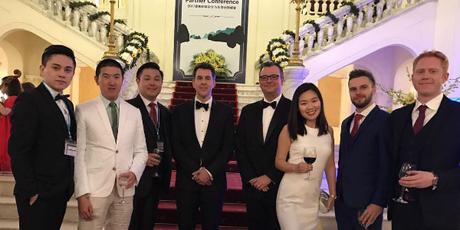 (Hong Kong, March 6, 2017) Pacific Prime is proud to announce that leading insurance provider Bupa Global has awarded Pacific Prime with the Bupa 2016 Innovative Excellence award at the 2017 Bupa Global Greater China Distributor and Partner Conference.
The Bupa 2016 Innovative Excellence award was presented to Pacific Prime in recognition of their latest achievement as the brokerage that displayed the most innovative sales and marketing strategy in the Asia region in 2016.
Neil Raymond, Managing Director at Pacific Prime, commented: "We are honored to receive such prestigious industry recognition, as meeting the needs of our clients and the industry are integral to everything that we do. By leveraging our 17 years' experience in the industry, the innovative solutions that we provide to individual and corporate clients are at the forefront of the insurance industry."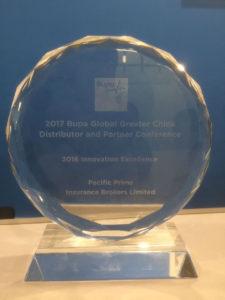 The prestigious award took into account Pacific Prime's bespoke approach to delivering an outstanding customer service experience, which is backed by their 'Broker Framework Model', a holistic value system that embodies all aspects of the firm's consulting, policy broking, and plan administration strategy. Pacific Prime's innovative approach to individual and corporate sales is also backed by dedicated sales and renewals teams, and further streamlined by their state-of-the art CRM system.
Bupa Global further recognized Pacific Prime's innovative excellence in marketing, particularly their dedication to releasing insightful industry reports on International Private Medical Insurance, including the Cost of International Health Insurance Report 2016, and the International Private Medical Insurance Inflation 2017 report. Besides further establishing Pacific Prime's reputation as a key knowledge leader in the insurance industry, the reports help customers to make more informed purchasing decisions and act as a valuable benchmark that allows insurers to see what other providers in the industry are doing.
Sheldon Kenton, Managing Director at Bupa Global, commented: "Pacific Prime has consistently pushed the envelope in terms of maximizing their digital customer relevance and natural search authority via in depth reports on the industry, a very clear and consistent target customer focus and smart content marketing. I congratulate them on this well deserved award."
Pacific Prime has worked in partnership with Bupa Global for over 13 years, and these awards are a continued reflection on the longstanding, successful relationship between two major players in the insurance industry.
About Pacific Prime
Headquartered in Hong Kong, Pacific Prime is an award-winning insurance intermediary that leverages its longstanding partnerships with over 60 leading insurance providers to provide the best value insurance services and products to individual and group clients. For more information, visit: https://www.pacificprime.com/