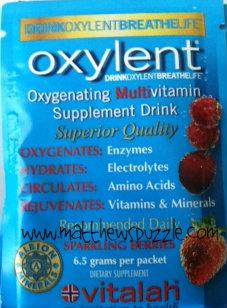 I'm always searching for a good quality multivitamin. I like to derive most of my vitamins from my foods, but I find that isn't always manageable. And no matter how hard I try, it is nearly impossible to get all those nutrients in my children without some sort of supplementation. Well recently I was introduced to Oxylent, which is an Oxygenating Multivitamin Drink. Oxylent comes in both an adult and a children's formula. Nico tried the Children's berry berry punch multivitamin drink which comes in stick packets, making them fun for kids and very potable for adults. He told me the drink was really good. I admit I tasted it and liked it myself. It was sweet, but not too sweet and was made with stevia not sugar!
The children's Oxylent contains the "typical" vitamins found in most children's multivitamins, but it also contains other important vitamins I don't often see, such as Biotin, Magnesium, Chromium, Vitamin B12 as methycobalamin and Selenium. Having a child on the autism spectrum has really taught me the importance of some of these vitamins and minerals. I'm a huge fan of Magnesium and Children's Oxylent has 50% of the DV (daily value) in each serving. In addition Oxylent is Gluten, Dairy and Caffeine Free making it easy to use on a GFCF diet.
I really enjoyed the Sparkling Blackberry Pomegranate Oxylent, I've never been one to talk pills and this effervescent drink is a much easier delivery system. The adult version contains only 2 grams of can sugar and stevia making is only 15 calories. I particularly like the fact that Oxylent doesn't contain any artificial additives of any kind, including artificial coloring. Instead they use natural beet powder to create a pleasing color.
Recently I found out I have very low vitamin D levels and I was very happy to find out that Oxylent contains vitamin D3, which is the preferred form of the vitamin (which is often considered to be a hormone. Oxylent comes in different flavors such as Sparkling Mandarin, Sparkling Berries, Sparkling Blackberry Pomegranate and even a Prenatal No Sugar formula in Sparkling Cranberry Raspberry. If you are interested in learning more about Oxylent hop over to www.oxylent.com
I received samples of Oxylent, free of charge, before providing this review. All views are my own.