Sometimes the perfect London day is a spontaneous one.  This year there are so many amazing exhibitions in London that I am seriously considering getting the Art Fund pass again to attend as many exhibitions as I can without paying full price.  There are even attractions like Kensington Palace that are free to pass holders.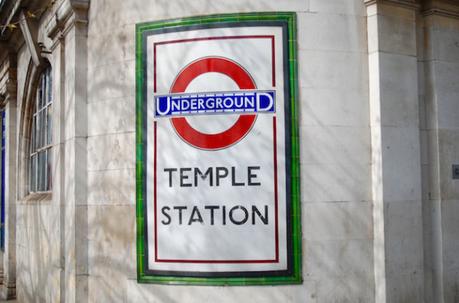 Somerset House recently had a brilliant exhibition on recently called Out There: Our Post-War Public Art.
I decided the day before that I would go and make a day of it.  When I got ready Sunday morning I thought I would be going alone, then D said he'd like to go we out we went to explore post war public art.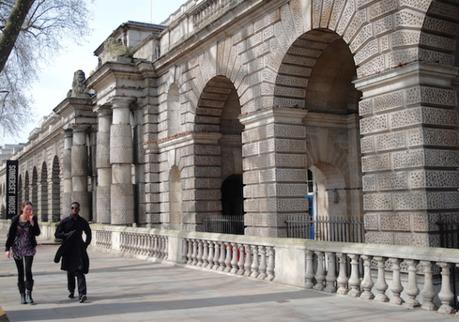 A visit to Somerset House never disappoints so we were fairly excited go explore even if the exhibition turned out to be a bust.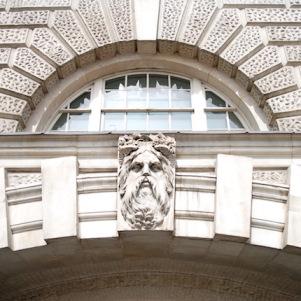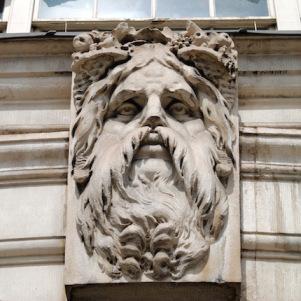 Respect the Beard
It's always nice to go through the Thames exit which is closest to temple tube station because there is always a small exhibition showing.  It doesn't often get saturated at this entrance also because it looks like a building that the public shouldn't be going in.  This gargoyle staring down ominously at passersby probably doesn't help either. We were in luck as the room we entered was mostly empty and an interesting exhibition named Utopia was showing.  It wasn't that engaging so we didn't stay for too long but it was still nice to have a mooch around, use the clean loos and get our bearings.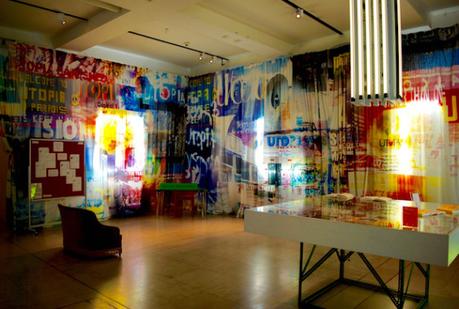 From the beginning I was impressed by this exhibition.  The sign outdoor of a giant Godzilla looking creature was a good taste of what was to come indoors.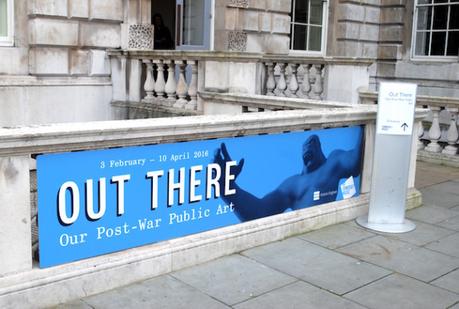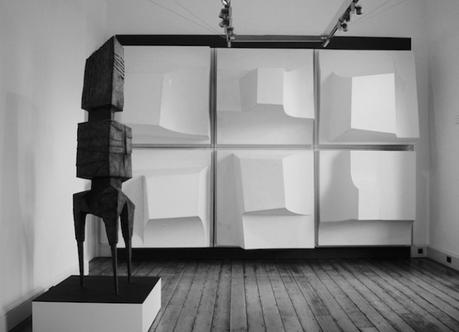 Unfortunately we were not allowed to take pictures inside.  I did take a few sneaky pictures inside but I can't find them, karma police.  The one above was in the lobby before the exhibition and we were allowed to take a picture.Part of the fun of going to Somerset House for these exhibitions is the location itself.  It is one of the prettiest places in London and there is no doubt why this is one of the main locations for London fashion week.  Which reminds me I must try to go next year if I can.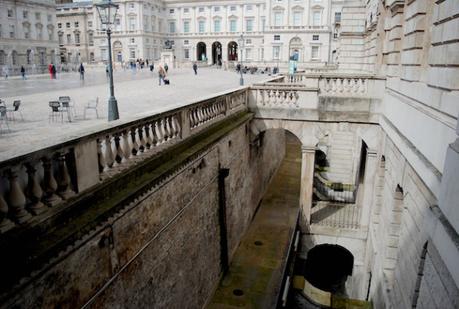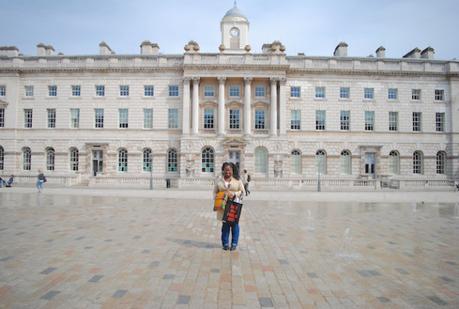 Stepping out into the court yard it begs to be photographed and is the perfect neutral background for color so I asked D if we could have an impromptu photo shoot.  For some reason he cannot take a flatter photo of me unless I direct him.
Like the amazing partner he is, he thinks any photo I am in is beautiful, it is lovely, but he should be able to tell that my eyes are closed or my scarf is in my face.  It isn't a criticism and I feel he thinks I would take it that way if he were to say it.  I guess the saying love is blind has some truth.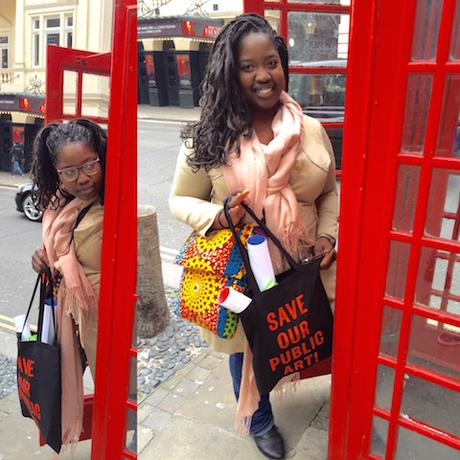 After getting our fill of beauty we headed towards Trafalgar Square.  On the way there we found ourselves in a position that many tourists probably do.  Famished and didn't know where would be good to eat, not too expensive and was close.
*Since drafting this post the Art Fund now has an option of getting a pass for 3 months costing only £10.  I have mine and I am ready for a summer of art!!
To be continued…