Ever played shuffleboard before? Tabletop or floor? Well, things just got a bit more technological and a whole lot more fun with the arrival of Electric Shuffle to the London scene.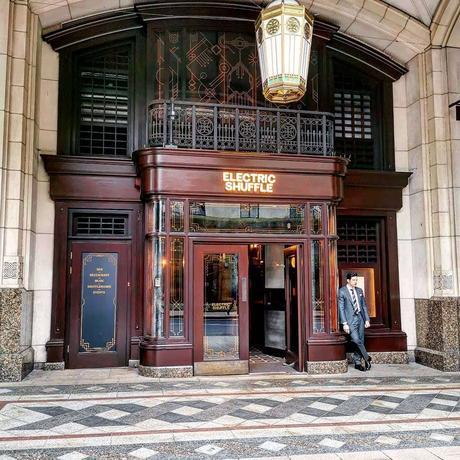 Electric shuffle is a new tabletop shuffleboard bar from the creators of Flight Club. Think shuffleboard, but more games, and machine vision technology which scores everything for you! Sounds good right?
We're super competitive when playing anything. And I'm a big fan of flight club so we went along right before Christmas to try it. A cheeky little date day before all the craziness of Christmas celebrations. We had SO MUCH FUN.
Firstly, Electric shuffle is SO COOL inside. It's like you've stepped inside an old-school power station from the 70s. It has an exposed factory-like feel, with tall ceilings and pipes, huge lit up 'control panel' along one wall, awesome colourful speckled tables in the bar, and lots of dark woods. The bar itself actually reminded me of an old school jukebox. The atmosphere was super buzzy, with everyone excited to be getting their competition on, and parties coming together. In search of the toilets, we found that upstairs there are more shuffle tables and another bar. It's massive.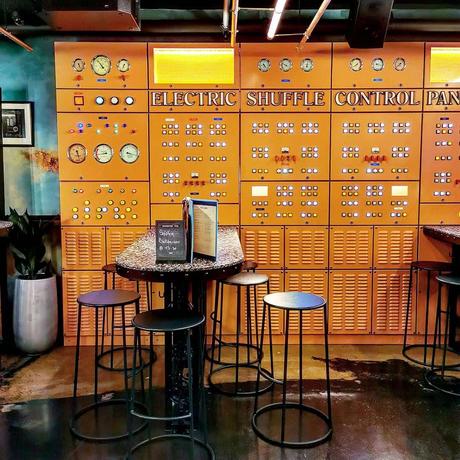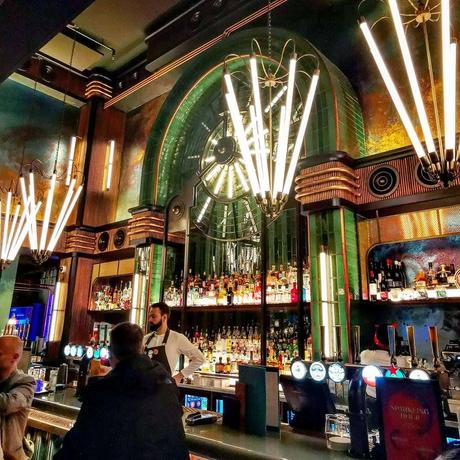 There are 10 shuffle tables at Electric Shuffle in total. Each table is set up with 4 pucks of each colour (pink and blue, for the two teams), a screen at the end which shows the gameplay and scores, and 3 games to choose from on the screen beside it. We, of course, tried all 3; one was a standard shuffle accumulator (score the most to win), another involved getting as much territory of the board using your pucks (the screen showed how much you took up based on where the pucks stopped) and the final game was to be the closest at the end of each round to the target in the middle.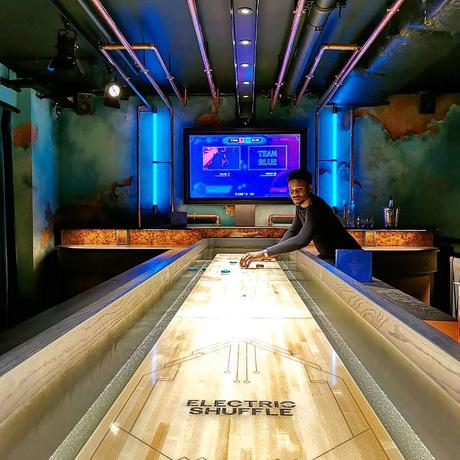 Things got super competitive.
We got our game stances on, knocked each other off, and even celebrated our own wins. I couldn't tell you which was the most fun. To be honest, I think they all must be played! It was so much fun.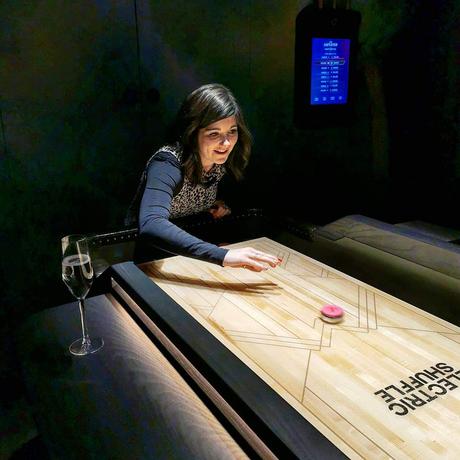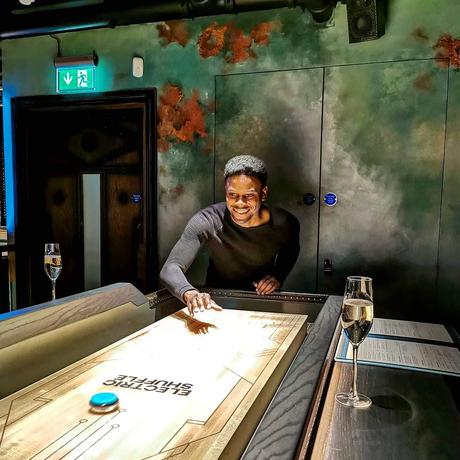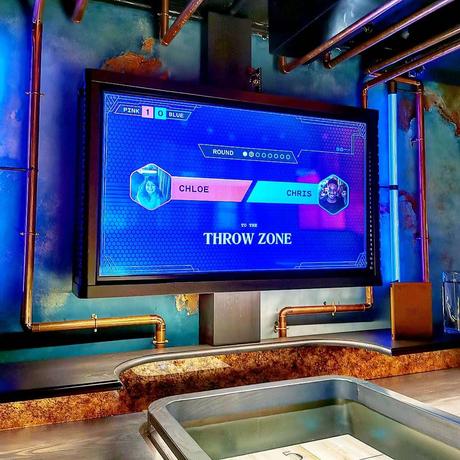 The screen alongside the table which features the games also has a button to call for service should you need a drink. This is always helpful in a busy place when you don't want to lose too much game time.
Celebrating (of course), we had a fab bottle of prosecco whilst playing. The drinks menu is extensive. There's so many beer options, as well as wine, fizz and cocktails (including frozen and sharing trophy ones).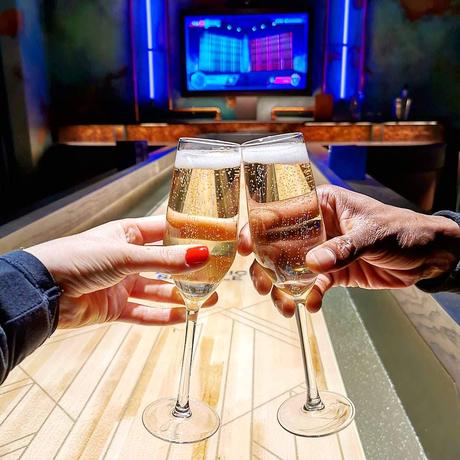 The cocktails were fab too. The Gin Switch - Tanqueray 10 Gin, Cocchi Americano Lemon, Orgeat, Apple, Cucumber, Soda - refreshing and just a touch of zestiness. The Raspberry Puck Power - Ketel One Vodka, Raspberry, Pineapple, Citrus, Prosecco - was fruity yet light. Both went down oh so well.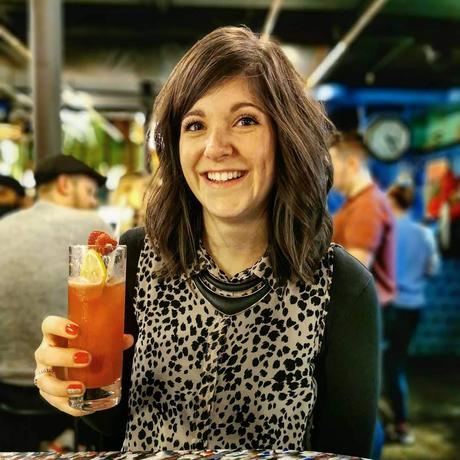 There's also a food menu which has quite the selection of diner-style food.
There was so much choice from sharing pizzas, platters and fries, to burgers and small plates of dishes such as tacos, buffalo chicken bites and halloumi skewers. The pork and fennel mince pizza with smoked mozzarella and cherry tomatoes was absolutely delightful. It was pretty big in size, and had plenty of cheese. The meat was really soft and had a fantastic flavour, and there was plenty of this too. It also stayed hot for quite a while which is always good if you're sharing whilst shuffling.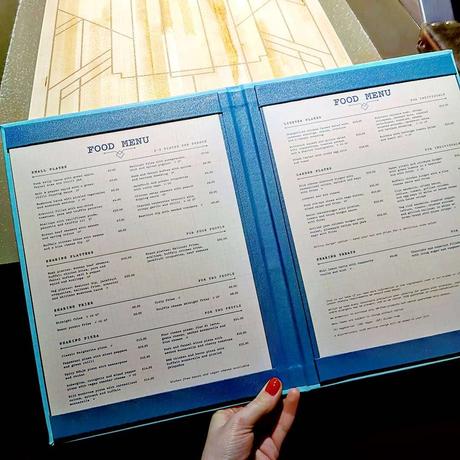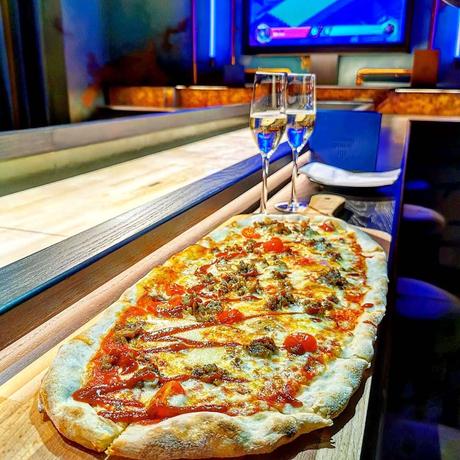 We had just 60 mins on the table (usual slots last 90mins) and it went so quickly. I think 90 mins would be perfect. We did think having just two of us might not have been enough to fully enjoy it.. But we absolutely loved our Electric Shuffle experience. If you've got a bigger group (you'll be split into teams) I'd definitely consider booking a couple of slots back to back, although one 90 min slot would work too. Trust us, you'll have so much fun... I'm just limiting the chance you'll wish you'd had more time.
We finished up in the bar sipping our cocktails - do book a table if you think you'll do this too. Luckily they had a spare bar table for us when we asked before we started the shuffle session. The whole team were really friendly throughout, and super helpful with things like this, really adding to the experience.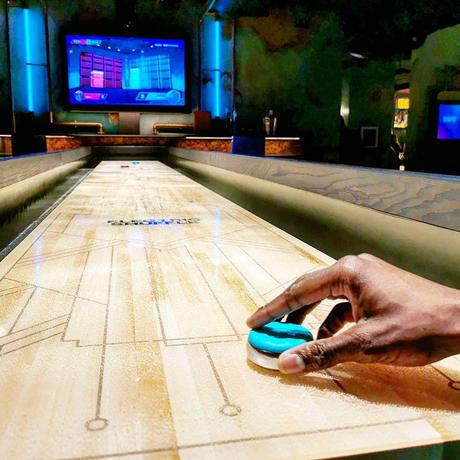 Honestly, we had the most amazing time. We loved every minute and we're most definitely going back!
Summary - Electric Shuffle:
Price: Prices for the shuffleboard start at £30 for two (90mins) during off-peak times. You can get a table for a group of 6 (90mins) during peak hours for £60 - not bad at all at £10 a person! Drinks were really reasonable (cocktails ~ £10), and food was good value too (our sharing pizza was £15.95).
Experience: Competitive and SO much fun! We absolutely loved the whole experience, was the uber-cool setting, to the warm, friendly welcomes and service, the games, food and drink. The whole shebang was awesome!
Drinks: Great selection. Some awesome cocktails. Pretty good value too.
Food: Diner-style menu, lots of choice for meat-eaters and plant-eaters. Plenty of sharing options for whilst shuffling. There was so much we had our eye on, but the pizza was delicious and a great choice!
Atmosphere: 70s, retro power station feel. Really cool and buzzy. You could feel the excitement around you from those who'd played and those waiting to shuffle. The team were great too which really added to the overall atmosphere.
Book?: YES! Book online to reserve your table -I can see it getting booked up pretty quickly. Although you can't book for less than a group of 6 during peak times, so if you're a smaller group it'd be worth trying to go along anyway and having a drink whilst you wait. The bar is super cool for a drink either way.
Have you played shuffleboard before?
Chloe xx
* We were invited along to review Electric Shuffle. All view my own.