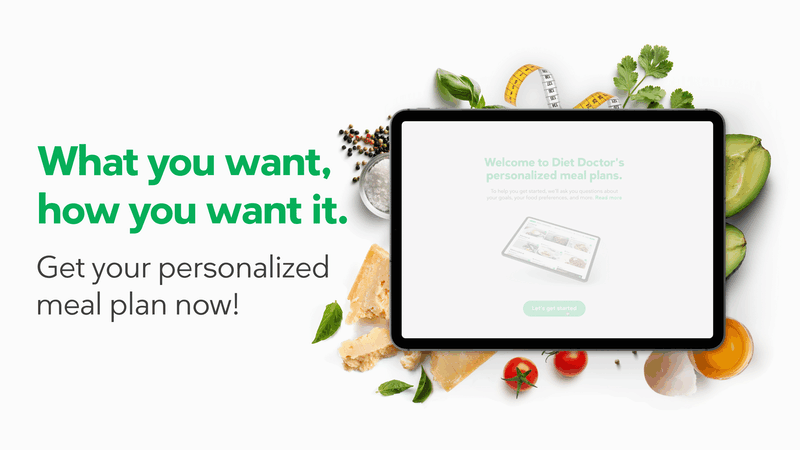 Want to reach your weight loss and health goals faster? We're excited to announce a brand-new member benefit of Diet Doctor: personalized meal plans.
Get what you want, how you want it. You'll receive delicious, healthy meals with all the planning done for you. Tell us what your health goals are and what you like to eat. In minutes, you'll have a custom-made keto or low-carb meal plan. It's the perfect meal plan for you.
Don't eat dairy, eggs, seafood, or pork? We'll remove those. Only have a short amount of time to cook? No problem. We'll only add fast and easy recipes to your plan.
Perhaps you want to save time by making extra for dinner and have the leftovers for lunch the next day? We'll make sure your plan has that. Or, if you have a nut allergy, we'll remove any recipes with nuts.
One of the best parts about personalized meal plans is that nothing is set in stone. If you don't like a recipe - or don't have the ingredients or time required to make it - we'll give you a new meal suggestion.
How can you start using personalized meal plans now? It's simple. First, we'll ask you a few questions about yourself. We'll also ask about your weight loss goals, what you enjoy eating, how much time you have to cook, and your health status.
Once you've taken the survey - which only takes a few minutes to complete - you'll get your meal plan. It will have the exact amount of carbs, protein, and total calories needed to reach your goals, with the recipes we think you'll love.
To get started, head over to the personalized meal plan survey and submit your preferences to create your plan. Soon, you'll get access to simple and tasty daily recipes, plus convenient shopping lists.
Not yet a member and want to try it out? No problem! Simply sign up for a FREE 30-day trial, and you'll be able to access free personalized meal plans for the next month. Take the survey
Excited? Us, too! We're looking forward to seeing what you think. If you have any questions or feedback, please feel free to leave comments below.
If you have any questions regarding personalized meal plans, please reach out to our support team ( [email protected]), and we'll be happy to help. Your feedback improves our app.
Start your FREE 30-day trial!
Get delicious recipes, amazing meal plans, video courses, health guides, and weight loss advice from doctors, dietitians, and other experts.