The April Daring Baker's Challenge was hosted by Wolf of Wolf's Den. She challenged us to Spring 
into our kitchens and make Easter breads reflecting cultures around the world.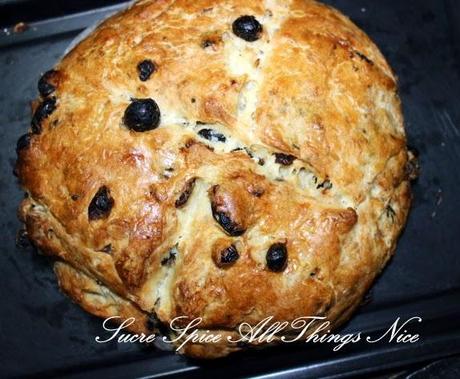 Traditional Indian cuisine does not have a history of baking. Whatever baking is seen in Indian cooking today has been adopted and adapted along the way from recipes brought in by traders, invaders and colonial rulers.Hence,there is no traditional Easter bread in Indian cuisine.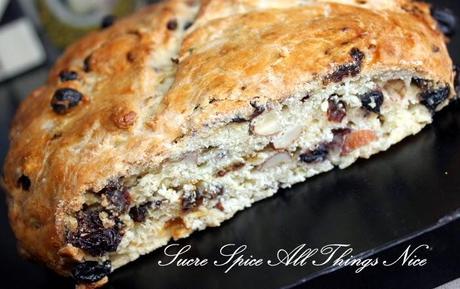 I opted for Osterbrot – German Easter Bread which is usually a soft, white loaf made in a boule-shape and scored with a cross. Filled with currants and almonds and scented with lemon peel, German Easter bread is not as heavy as a brioche.
Thank you Wolf for a wonderful experience in bread making !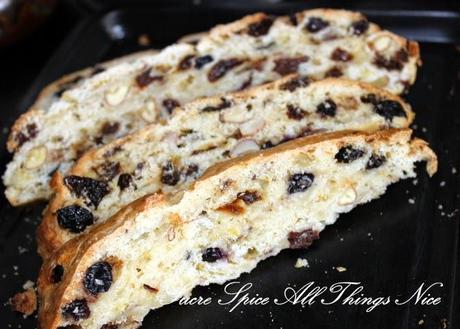 Ingredients
Additives

170 gms currants or raisins
40 gms copped almonds
80ml milk
Sponge

170 gm cake flour
1/4 tsp instant yeast
160 ml cold milk
Dough-Sponge

170 gm cake flour
35 gms sugar
1 egg
1 tsp instant yeast
½ tsp salt
50 gm butter-
1 tsp lemon or orange zest
Method 
Soak raisins in warm water and chopped almonds in milk for 
for 15-20 minutes
 .
 In a bowl, add together the ingredients for the sponge. With a mixer,  mix until thoroughly combined and a smooth ball of dough forms. Set aside, covered, and let rise for 1-2 hours.
In the same bowl as the sponge, add rest of the flour, sugar, yeast, salt and egg. Mix until well combined, kneading for several minutes.Add the butter and zest and mix/knead for several more minutes.
Drain the currants and almonds thoroughly. Add to the dough and mix well. Add enough flour so the dough isn't sticky and forms a ball. Turn out on to lightly floured surface and knead until smooth. 
Form the dough into a loosely shaped mound,cover  and let rest again for roughly 30 minutes.
 Preheat oven to 200°C.
Line a cookie sheet with parchment paper. Place a pan of hot water on the rack below where you will be baking. When the dough is rested, slash with a sharp knife the top with an 'X'. Transfer to baking surface.

Brush the top of the dough with either milk.

Bake the bread with steam for 30-35 minutes.
Cool completely, slice and serve!