I don't know about you, but I might be overly excited about tonight's big event. The couture gowns, hairstyles, men in tuxedos with Tom Ford pocket squares… Oh my, and how nice is it to relax with friends, family, and a glass of bubbly?
You can never go wrong with a classic mimosa, but here are some other ways to kick it up a notch tonight.
"Paris's Crimson Champagne Cocktail"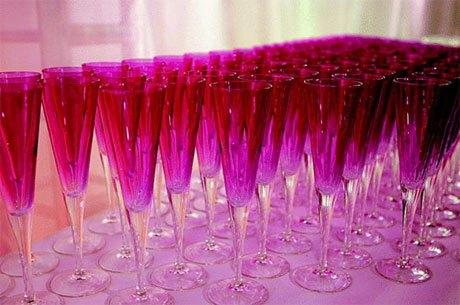 Ingredients:
Brandy-cranberry syrup
• 1 quart cranberry juice cocktail
• 4 slices fresh ginger
• 1 cinnamon stick
• 1 piece star anise
Champagne cocktail
• 1/4 cup brandy
• Champagne
• 1 fresh cranberry, for garnish
Directions:
For cranberry syrup: In a medium saucepan, boil the cranberry juice cocktail, the ginger, the cinnamon stick, and the star anise for half an hour or until reduced to 1 cup. Let cool.
For cocktail: Fill a Champagne flute half-full with Champagne and add the brandy. Add 1 ounce Brandy-Cranberry Syrup and mix. Garnish with fresh cranberry.
"Cranberry and Vanilla-Bean Mimosa"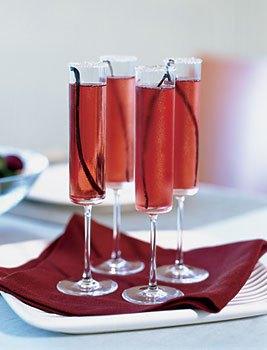 Ingredients:
• Cranberry juice, chilled
• Ice cubes
• 1 vanilla bean
• Sparkling wine
• Garnish (optional): sugar and halved vanilla beans
Directions:
Combine a few cups chilled cranberry juice and ice cubes in a cocktail shaker. Scrape in the seeds from vanilla bean. Shake well. Strain into Champagne glasses, filling only halfway. Top off the drinks with sparkling wine. For an extra-special touch, rim the glasses with sugar and garnish with halved vanilla beans.
"The Champagne Cocktail"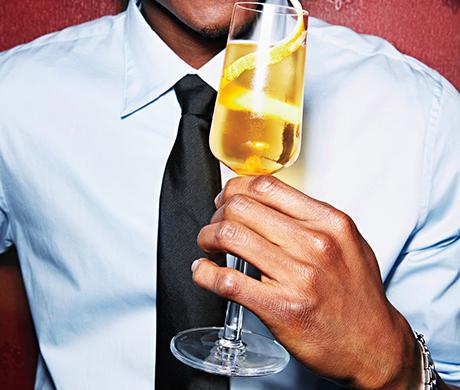 Ingredients:
• 1 dash The Truth Old Time Aromatic Bitters or Angostura bitters
• 1 sugar cube
• 6″ twist from a lemon
• 5 ounces chilled Champagne
Directions:
Drop 1 dash The Truth Old Time Aromatic Bitters or Angostura bitters onto a sugar cube and place in a Champagne flute. Using a channel or paring knife, cut a 6″ twist from a lemon and arrange inside glass. Gently pour 5 ounces chilled Champagne into glass.
Royal Blush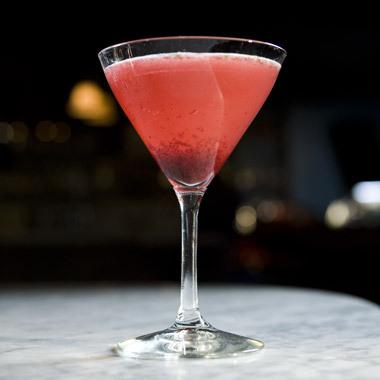 Ingredients:
• 1 teaspoon cherry purée (note: recipe below makes 3/4 cup)
• 3 tablespoons (1 1/2 ounces) vodka
• 1 1/2 tablespoons (3/4 ounce) fresh lime juice
• 1 tablespoon (1/2 ounce) simple syrup
• 5 fresh mint leaves
• 1 cup ice cubes
• 1/4 cup (2 ounces) dry sparkling wine, such as brut Champagne, chilled
Directions:
Cherry Purée: In a bowl, purée frozen cherries or all-fruit spread with water. In general: 1 cup of frozen cherries (6 ounces) puréed with 2 tablespoons of water makes approximately 3/4 cup purée. To make purée using all-fruit spread, combine 3/4 cup spread with 3/4 cup water. Any extra can be used to make smoothies or sauce for ice cream.
Cocktail: Transfer purée to chilled martini glass. In chilled cocktail shaker, combine vodka, lime juice, and simple syrup. Tear mint leaves in half and add to shaker. Add ice and shake vigorously for 15 seconds. Slowly strain into martini glass without disturbing purée, then top with sparkling wine and serve.
Cheers!
xo -Josie
[email protected]
Twitter:@JosieAlexandra