Hey everyone!
Today I'm reviewing the
Oriflame Colour Unlimited Lipsticks
that is a part of their newly launched range -
The ONE.
Price : Rs 499 for 1.7 g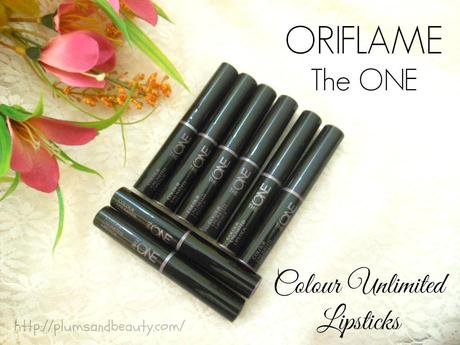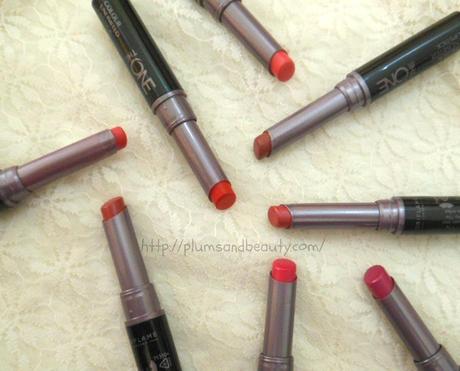 What Oriflame says about the product -
10 hours of super color & comfort with long wear lipstick. Finally !! A lipstick that lasts as long as you can.
Lip Grip Technology fastens lipstick to lips with anti smudge ingredients so color stays put.. comfortably
Light weight texture enriched with a blend of oils & butters for long lasting comfort & moisture.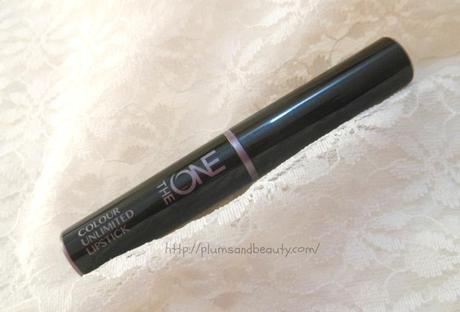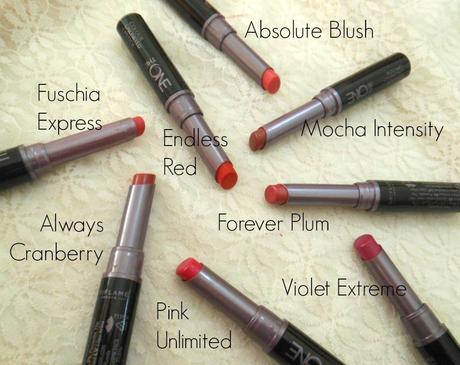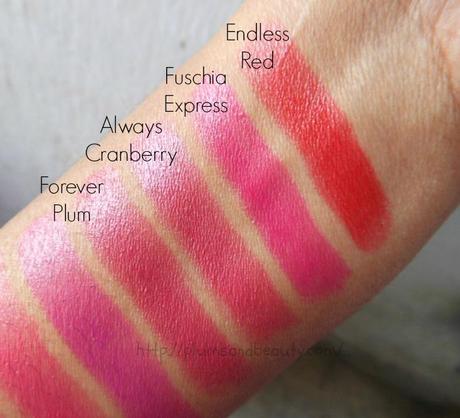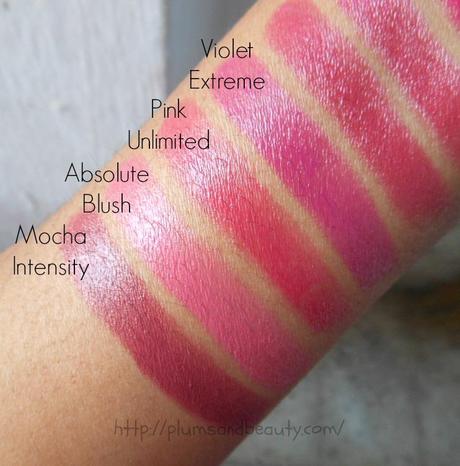 My experience with the product
Oriflame The ONE Colour Unlimited Lipsticks comes in a cardboard box packaging that contains all the necessary information - price, ingredients, etc. The body of the lipstick is sleek with the staple The One range packaging of steel gray and black - will easily fit in your handbag and the cap shuts tightly and would not open up. The texture is really soft and creamy, the finish is glossy with a bit of translucence and a faint vanilla or mango scent that is not overpowering. The overall formula is quite light weight, comfortable on lips and gives easy hydration to lips without drying on the lips. The pigmentation is semi-sheer and impart enough color to cover up pigmented lips. Since the lipstick is sheer and glossy, there is a tendency to transfer and fade off quickly and the shades barely stains the lips, I get about 4 hours of wear out of dark lipstick and 2-3 hours of wear out of lighter lipsticks, after which I am left with a soft stain. But since the texture is so beautiful, I don't mind reapplying! The shades feels lighter, smoother and luxurious in texture.Endless Red is a deep rich red shade and one of the most intense shades from the range – it gives about medium coverage to my lips covering up pigmented areas to a great extent. You can layer the lipstick for heavier coverage. Despite being a deep cool red color, it looks very fresh when applied because of the luminous, translucent finish. Its a shade that'll work for day and well as evening and would show up on fair as well as deep complexions.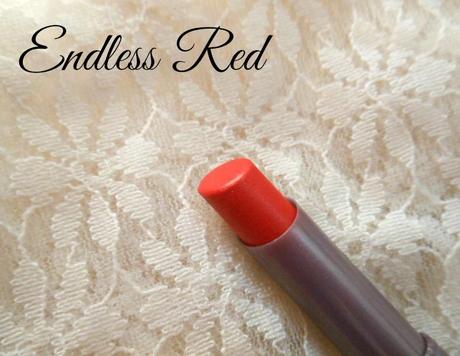 Fuschia Excess is a hot pink shade, almost leaning towards orchid that adds a nice pop of color to the face. It has a bit of purplish pearl in it which gives it its cool tone. The shade would work well for both day and evening because of the sheer pigmentation and show up on almost every complexions.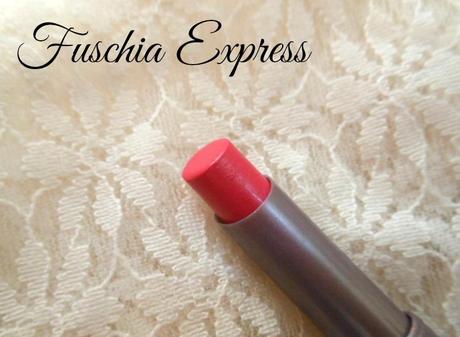 Always Cranberry is a reddish berry pink that looks very soft and natural on the lips. The sheer, translucent quality of the texture makes this a very wearable color and I reach out for this color all the time. The shade is effortless to carry off, you don't need to put any other makeup on your face to make the color work, it looks beautiful on a bare face. I think its a very very pretty color for Indian skin, I'd recommend this shade to everyone!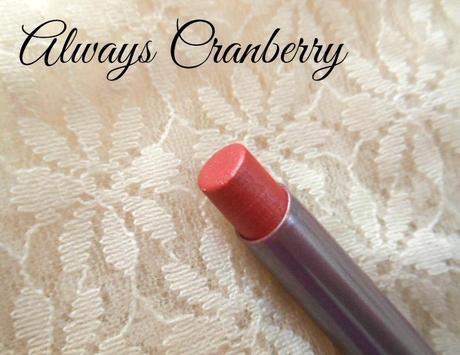 Forever Plum is a gorgeous rosy plum shade that works beautifully with Indian skin especially wheatish/dusky complexions. The color is quite understated but not too light or too dark. Its a great shade for work wear as well. I personally love wearing it with soft defined eyes and a hint of pink blush. Because its not too plummy, it doesn't make me look washed out, the rosy pink touch gives a nice healthy look to the face.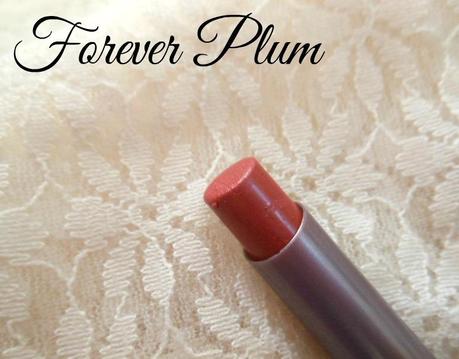 Violet Extreme is fuschia based violet shade that is rich but not too dark and gives enough pigmentation to brighten up your face.  The shade be used alone or with pink/clear gloss or just dabbed over another lipstick for some extra shine and shimmer. Since single swipe gives sheer color, it can be worn in the day time too and the color and shimmer can be built up for evening/party wear.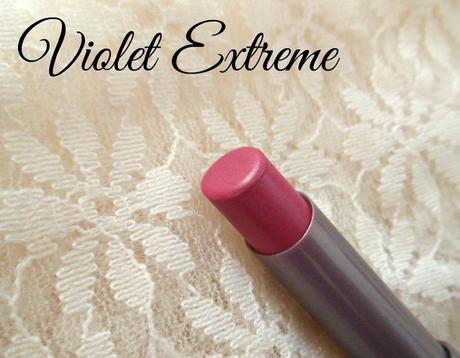 Pink Unlimited is a pretty sheer rose pink shade that would look nice on very pigmented lips. For me, I like to wear this with smudged kohl and a soft pink blush for a effortless natural look. The shade has some very tiny shimmer but it is very well integrated into the formula and can barely be seen.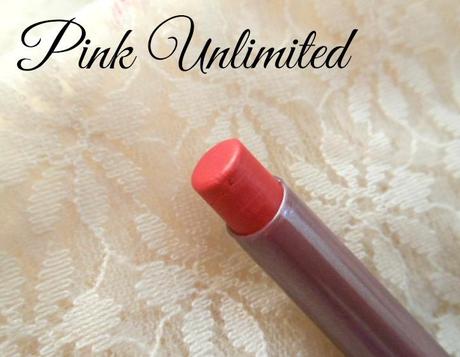 Absolute Blush is a beautiful coral shade that may look more pink. On me, it look more of a coral pink.. It is the perfect shade for summer – the color is soft and the finish is sheer. The shade might not suit darker skin tone very well. I have a love-hate relationship with this shade.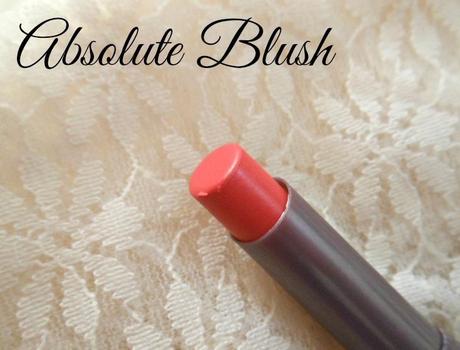 Mocha Intensity
is a 
is a
medium brown
shade with subtle golden shimmers – this is my least favorite from the 8 shades I tried because it doesn't brighten up my complexion. The shade would not work very well on deeper skin tone.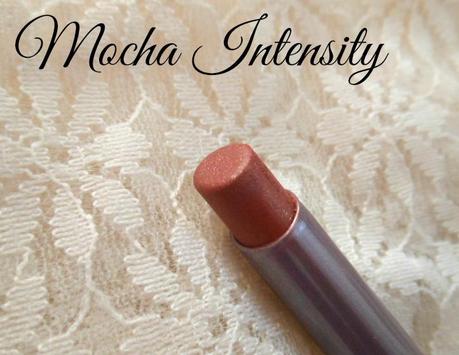 Overall, I am quite liking the The One range lipsticks because of the sheer, light-weight, glossy texture that would suit almost every complexion without being heavy on lips and the hydrating formula makes it apt for winters. The only drawback is that you need to source these through an Oriflame representative.
Highly Recommended -
Endless red, Fuschia Excess, Forever Plum
and
Violet Extreme. 
Rating : 4.75/5
Disclosure : Products sent by Brand/PR , However  views, comments and opinions expressed herein are my original and unbiased. Oriflame does not hold any liability.