Two traits that define any woman– class and style!
And a carefully chosen watch does that to perfection.
Accessories are essential in embellishing appearances and watches are one of those bold statement drivers that help showcase personalities without really having to try too hard.  Over time, they have grown as class and statement defining accessories- just imagine, how often does it happen that your wrist is doing the talking without you even knowing it?
Crafted in sheer brilliance, Michael Kors stands for flawless designs and elegance. Their watches are sought after among fashion followers and trendsetters to set new paradigms in design and artistry.
A marvel in the high-end watches league, Michael Kors' men and women collections are renowned statement makers for their look, feel and unparalleled beauty. They are often seen in the same league as the likes of Gucci and Tory Burch but what sets them apart is the scalability factor.
Michael Kors creates a line of watches from the affordable to high range bracket so that every lady gets her chance to pick one. It's an open secret that a Michael Kors watch is a hot favorite among women any age and taste, and so, won't it be a great idea for you to gift your lady one?  
However, the dilemma of finding that one perfect piece that really fits the bill is a challenging one. Sometimes, it turns out herculean to figure out what would work and what wouldn't, and we are here to straighten that out for you.
So, here we go as we list down the five best Michael Kors watches from Ethos Watch Boutique that any lady would love to have on her wrist.  Read on to find out your pick :
MK3249 Camille Glitz Black-Tone Stainless Steel Bracelet Watch 43mm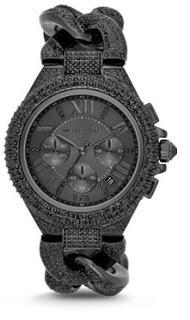 Like all watches in the Kors collection, this model too leaves a mark with its functionality and charisma. Made of metal bezel and encrusted with black ion plated dial, it is sinfully pleasing.
In addition to the time and date display, it has a chronograph function which works as a nifty tool if you are cooking to time or even chasing down friends in a timed race!
This black dazzling bracelet watch is crafted beautifully with a 43mm wide case of stainless steel and other special metal alloys. If you want her to dazzle among the crowd, this is what cuts it!
MK3242 Runway Twist Black and Gold-Tone Stainless Steel Bracelet 34mm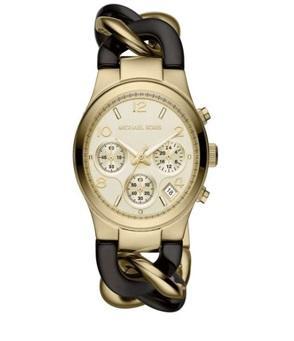 A perfect illustration of the mélange of style and inclination towards classical rendition look is this Michael Kors' watch- MK3242. The architecture of chronograph depicts functionality and style thoroughly.
The duet shades of gold and black with white accent and gold tone luminous hands and hour markers, 12/24 hour time and date display functions, scratch resistant mineral crystal, and water resistant feature up to 50 meters make this model eye-catching, sensational and most importantly- useful.
If she loves standing out of the crowd, then don't think twice—this is how you can leave her pleased!
MK5191 Gold-Tone Stainless Steel and Black Polyurethane Bracelet 38mm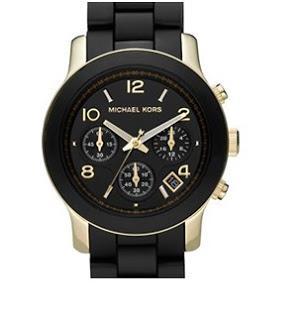 The captivating framework of MK5191 encompasses of effortlessly stylish gilded stainless steel that fits the bill perfectly for a simple elegant timepiece. This watch has powerful and reliable quartz movements with a sharp black dial. It also features gold outlined lustrous hands and hour markers.
Other standout features include gold-tone numerals, date display chronograph functions, scratch resistant mineral crystal, and water resistant to 100 meters. These features make it enticing enough to bring a smile on her face.
Perfect for any situation--work or a friendly meet and greet!
MK5769 Navy Silicone and Gold-Tone Stainless Steel Bracelet 43mm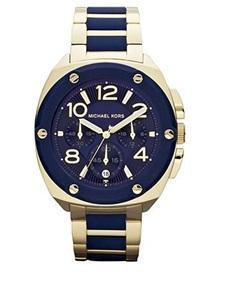 This stylish and scintillating objet d' art comes with a gilded stainless steel case and a textured chronograph dial. The miscellany of gold toned stainless steel and navy silicon center makes it desirable for every lady who wants to be a trendsetter.
Exquisiteness and sophistication are the words that truly define this magnificent timepiece. The watch is crafted with a blue and mineral dial window for protection from wear and tear.
So, if she has fashion on mind and has a thing for blue, this has got to be your pick!
MK5663 Parker Rose Gold-Tone Stainless Steel Bracelet 39mm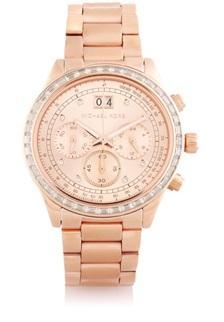 The classy design of this Michael Kors premium collection artefact will assist her in not just keeping time but leaving behind lasting impressions. Embracing a 39-mm round case of gilded stainless steel, this piece of finest workmanship lifts any wardrobe. The rosy design accounts for its quintessentially feminine character.
The chronograph dial in rose gold along with crystal hour markers and date windows make it appealing and classic. The blend of supreme design and technological expertise ensures an accurate exhibition of time. The quartz movement is reliable and being water resistant is a sure shot protection against wear and tear.
This beautiful watch paired with any dark color dress will make her look the part at every occasion. And if she loves hues of pink, this piece is a hands-down winner.
These Michael Kors watches are by far the best gift to win over any lady, no matter what the occasion.
All you need is a dash of love to go with it!
Happy gifting!
*Sponsored Post