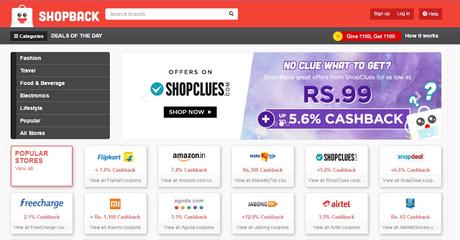 When you shop online, you can't bargain for lower prices or discounts which you can easily do when you shop at traditional stores and as of now, ShopBack.in offers a range of awesome deals and coupons. When you visit ShopBack, you will be welcomed by their variety of coupons, deals of the day as well as the latest sales from various shopping sites, such as Flipkart, Amazon, Nature's Basket, Jabong and many more. The cashback is listed just below the name of the websites. All you have to do is click on any store that you wish to shop from on ShopBack and it will redirect you to the shopping website, except that this time when you shop, you will actually end up saving amount too.
You can easily navigate through various categories and choose your particular brand or site through which you are planning to shop from and go through all the coupons they're currently offering. I really love the fact that they provide tempting cashback for travel packages from MakeMyTrip which I'd be sure to use the next time my family's planning a trip.
You can easily navigate through various categories, and go through all the coupons they're currently offering. These coupons are just teasers of the amazing deals that ShopBack offers. Many times in the past, I've used coupons from some other sites and found that most of them never work. It's so frustrating when you fill the shopping cart while checking out the coupons turn out to be bogus. However, ShopBack offers genuine coupon codes which work and you surely won't be disappointed in this aspect! The whole process is super easy and breezy! Apart from that, you get information about all the deals in one place hence you're better able to select the site best suited to your needs. This saves me a lot of browsing and hard work.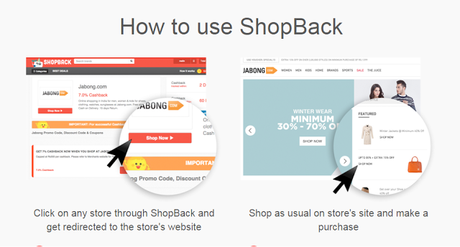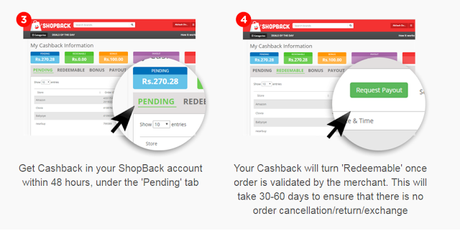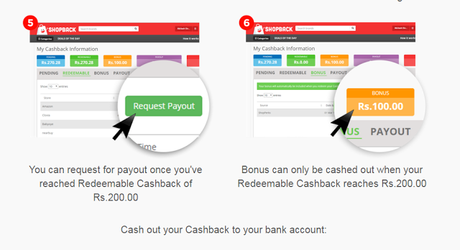 Being a Beauty Blogger, I always look for new product launches, deals and coupons for happier shopping. Like any other girl, I too love shopping but hate the idea of roaming from one shopping mall to another in search of beauty products and Voila! - Amazon comes to my rescue – I can shop here to my heart's content with the comfort of my sofa without being irritated with SA's and crowd. Any beauty product newly launched in the market can be easily bought from one of the biggest cosmetics online shop.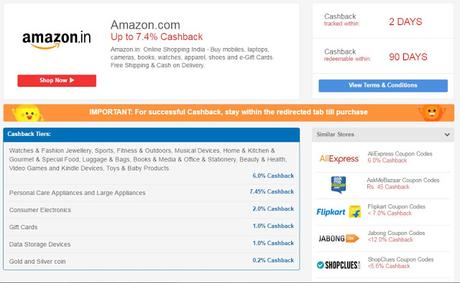 It is not that I always keep buying things, but being a beauty blogger and a fitness freak, keeping tabs on all the new launches and protein supplements, does not hurt much. Amazon takes care of their beloved customers whole-heatedly and is always ready to help in need. The website is easy to navigate and while searching for a product, you can specify and narrow down your search by your concern in addition to the Brand and Price. The products are nicely categorized indeed very specifically under proper headings. Every time I look up an item, the sites smoothly guide me and browsing is always a pleasant experience with product details, reviews, general traits, additional information and if a product is out of stock you can also view similar items. You will never feel irritated or lonely and the website will guide you with ease.

Overall, I think ShopBack is a great site to get the best out of your online shopping and I will definitely be making use of their cashback and coupons to save while I shop.