Recently I attended a seminar on Ribolla Gialla from Oslavia. Oslavia is in the Collio DOC, in Friuli-Venezia Giulia. The area borders Slovenia, and the people and winemaking traditions are the same on both sides of the border.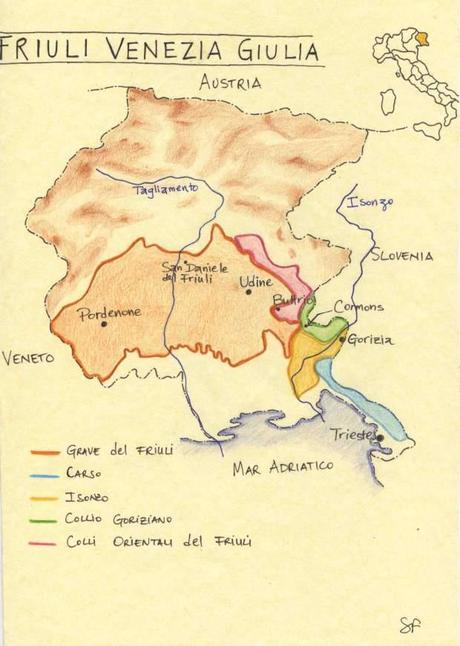 Friuli-Venezia Giulia
Terroir
As far east as it's possible to go in Italy, Collio is a short distance from the Julian Alps and the Adriatic Sea. The mountains help protect the area from the cold of central Europe. The sea moderates temperatures, keeping it warmer in winter and cooler in summer. There is a constant wind, known as the Bora, that gives the vineyards a unique air flow. Collio features sloped, terraced vineyards and soil – called "ponca" in dialect – that gives lots of minerality to the wines. Ponca, or flysch, has layers and blends of minerals from the prehistoric sea bed, clay and sandstone.
History and philosophy
The history of the region is important background to the making of today's orange wine. Oslavia (Brda in Slovenian) was badly affected the two world wars. No other part of Italy was so destroyed or was divided in the postwar power struggle between Russia and the US. An artificial border was drawn between Italy and Slovenia (then Yugoslavia), sometimes dividing families, even splitting vineyards. All current vineyards have been rebuilt since the war.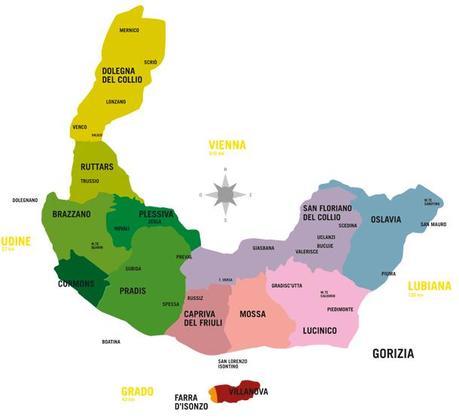 Collio DOC – Oslavia is in the east
Before the war, the land was part of the Austro-Hungarian Empire. The Austro-Hungarian Empire had a taste for white wines. When Collio became part of Italy, the people were suddenly joined to a predominantly red wine-drinking culture. As a result, part of their winemaking style and philosophy is to treat the white grape as if it were a red grape. The grape in question: Ribolla Gialla.
Documents dating back to the 1300s show that Ribolla Gialla was planted in the region. When winemakers rebuilt after the war, they chose this grape because of its romantic and historical connection to the land. However, in the 1960s, with the internationalization of the wine industry, many of the vines were ripped out and replaced with international grapes. As as result, Ribolla Gialla almost became extinct. A group of producers were committed to indigenous grapes and at the beginning of the 1990s began the School of Oslavia. They rediscovered Ribolla Gialla – as well as traditional winemaking techniques – and brought back these orange wines.
Their philosophy is simple:
Respect for the territory and the creation of a new awareness and esteem for its native grape varities.
Healthy grapes means no pesticides, herbicides or chemicals in the vineyard.
Only use indigenous yeast.
No sulfites
Skin contact during maceration for color, tannins, and minerals.
These producers are: Dario Princic (Princic), Nicolo Bensa (La Castellada), Silvan Primosic (Primosic), Rinaldo Fiegel (Fiegel), Stanko Radikon (Radikon) and Franco Sosol (Il Carpino). They describe their mission this way: "It was a rediscovering, because this is not a new way of making wine, rather an old one, utilizing the viticultural and oenological techniques of a century ago." Everything is natural in the vineyard and the cellar. They don't talk about "biodynamic" and "organic" – they just do what their grandfathers did.
These wines need time; when you go to serve them open the bottle six to eight hours in advance. You can taste them over as long a period as seven days – they will keep changing, but the natural oxidation of the wine will keep them alive and interesting. In addition, these wines age very well. I recommend buying more than one bottle and tasting them over several years.
Tasting notes
We tasted six wines, with different amounts of skin contact. None of the wines see any refrigeration during the winemaking process. Drink the wines slightly chilled, at red-wine temperature. The darker orange the wine, the warmer the temperature at which you want to drink it. Orange wines pair well with meat such as lamb, pork, and sausage. By Italian standards, the wines have high alcohol, all between 12.5% and 13.5%.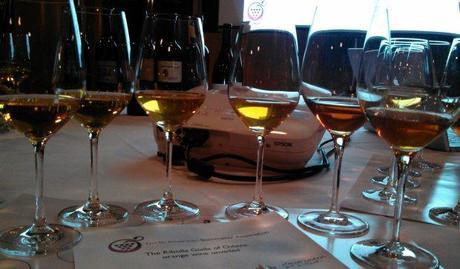 wines on the tasting mat
Wines with little skin contact
These two wines have only 8-12 hours of skin contact. They are aged in Slovenian oak barrels.
2007 Fiegl Collio Ribolla Gialla
Almost golden in color, brilliant.
Nose: Dry apricot, dry flowers, honey, minerality
Palate: Dense, honey, minerality, sapid. Balanced, with a long finish.
2008 Primosic Collio Ribolla Gialla
Golden color, brilliant.
Nose: Chamomile, more floral than the Fiegl, sweet spices
Palate: Floral, minerality, ginger and other spices. Dense, with a long finish.
Wines with longer skin contact
These two wines have 15-20 days skin contact. They are aged in oak barrels for up to three years before bottling.
2008 Il Carpino Ribolla Gialla IGT
Darker golden color, consistent.
Nose: Some oxydation, dry stone fruit, wet soil, wet chalk, wet leaves (earthy)
Palate: Bolder, spicy, lots of ginger.
2007 La Castellada Collio Ribolla Gialla
Light amber in color, consistent.
Nose: Dry flowers, sweet spices (cinnamon), oxydation
Palate: Rich. Bold. Tannins well integrated, minerality, high acid. Honey, spices.
(This was my favorite of the six wines.)
Even more skin contact
These two wines have 30-45 days skin contact. They show stronger oxydation, and plenty of skin tannin. These are orange wines to pair with red meat.
2005 Princic Collio Ribolla Gialla
Dark amber, brilliant, some sediment
Nose: Dates, fig, Asian spices, tea leaves, honey, dry flowers. Oxydation offering musk and earthiness.
Palate: Tannins present. Full body. High acid, lots of minerality. Very long honey finish.
This wine could age more – it lacked some integration.
2006 Radikon Ribolla Gialla IGT
Radikon was the first of these winemakers to experiment with the traditional grape. He really pushes the group forward.
Dark amber, some sediment
Nose: Stronger oxydation, honey, spices, earthiness.
Palate: Integrated tannins. Thick on the palate, but soft. Very long honey finish.