Rating: 
5
Prep Time: 
15 minutes
Cook Time: 
12 minutes
Total Time: 
27 minutes
Yield: 
30 cookies
Serving Size: 
3 cookies
Calories per serving: 
244.7
Fat per serving: 
9.9 g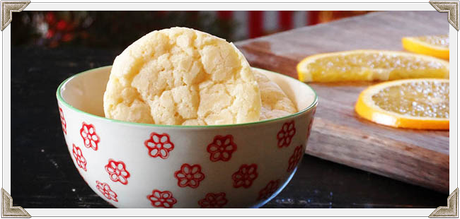 Orange Crinkle Cookies
One serving = 3 cookies
Ingredients
1 1/2 cup Gold Medal Unbleached All Purpose Flour
1/4 teaspoons salt
1/4 teaspoons baking powder
1/4 teaspoons baking soda
1/2 cup unsalted butter, softened
1 cup granulated sugar
1/2 teaspoon vanilla extract
1 large egg
1 teaspoon orange zest
1 tablespoon fresh orange juice
1/2 cup powdered sugar
Instructions
Preheat oven to 350 F degrees. Line insulated baking sheet with parchment paper.
In a medium bowl, whisk together flour, salt, baking powder and baking soda. Set aside.
In a large mixer bowl, beat butter and sugar on medium high speed until light and fluffy, about 4-5 minutes. Turn mixer down to low and add vanilla, egg, orange zest, and orange juice. Mix until combined then turn up to medium high for one minute. Scrape down sides of bowl and turn mixer on low.
Slowly add the flour mixture until just combined.
Place powdered sugar into a small bowl. Measure a heaping teaspoon of dough and roll into a ball then roll it in the powdered sugar. Place on baking sheet and repeat with remaining dough.
Bake for 10-12 minutes or until bottoms begin to barely brown and cookies look dry and crackled. Remove from oven and cool cookies on sheet for a few minutes, then transfer to a cooling rack.
Notes Saturated Fat 5.9 g Polyunsaturated Fat 0.5 g Monounsaturated Fat 2.9 g Cholesterol 43.4 mg Sodium 110.5 mg Potassium 33.8 mg Total Carbohydrate 36.9 g Dietary Fiber 0.5 g Sugars 22.5 g Protein 2.7 g