Prep Time: 
20 minutes
Cook Time: 
35 minutes
Total Time: 
55 minutes
Yield: 
24 bars
Serving Size: 
1 bar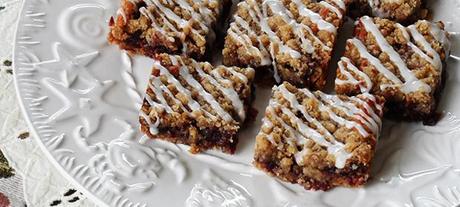 Blackberry Cheese Streusel Bars
Ingredients
1 cup cold unsalted butter, cut into cubes
1-1/2 cups quick cooking oats
1-1/2 cups plus 2 Tbsp. all-purpose flour, divided
1 cup packed light brown sugar
1-1/2 teaspoons cinnamon, divided
1/2 teaspoon baking soda
1 1/2 cups (4 oz.) Sargento® Artisan Blends® Shredded Whole Milk Mozzarella Cheese, divided
1-1/2 cups fresh or frozen blackberries
2/3 cup blackberry preserves
1 teaspoon pure vanilla extract
1-1/2 teaspoons grated lemon peel
1/2 cup chopped pecans (optional)
Glaze
1/2 cup powdered sugar, sifted
1-2 tablespoons milk
Instructions
Preheat oven to 375°F. Spray bottom and sides of a 13 x 9-inch baking pan with cooking spray.
Combine oats, 1-1/2 cups flour, brown sugar, 1 teaspoon cinnamon and baking soda in a large bowl or in the bowl of your food processor. Stir or pulse to combine. Cut in 1 cup butter with a pastry blender or two knives until crumbs are the size of small peas. For food processor, pulse cold butter.
Divide streusel mixture into two equal halves. In one half, stir in 1 cup mozzarella cheese. Press cheese half (3 cups) of oat mixture firmly into baking dish. Bake in a preheated 375°F oven 10 minutes. Cool 5 minutes.
Combine blackberries, preserves, vanilla, remaining flour and cinnamon in a medium bowl. Stir in remaining 1/2 cup cheese, pecans (if using) and lemon peel; mix well. Spread mixture over crust. Sprinkle remaining oat mixture over blackberry mixture.
Bake 25 minutes or until topping is golden brown. Cool completely. Cut into bars.
Make the Glaze:
Mix one tablespoon of the milk into the powdered sugar. It may be a little stiff, but keep stirring until all dry sugar is gone. If need be, add milk one drop at a time to loosen the mixture. Add additional drops of milk until you reach a thick, but drizzling consistency. Drizzle over individual bars and allow to set up.
Notes from AmandaDon't try to cut or move these until they are completely cooled, otherwise they'll fall apart. They need to be cooled off in order to bind together.