Rating: 
5
Prep Time: 
10 minutes
Cook Time: 
40 minutes
Total Time: 
50 minutes
Yield: 
16 bars
Serving Size: 
1 bar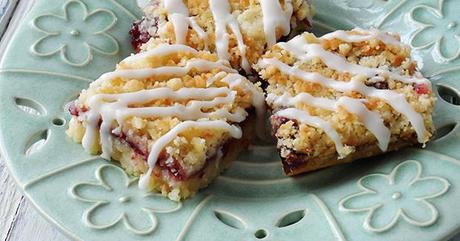 Cherry Berry Streusel Dessert Bars
Ingredients
2 1/2 cups unbleached all purpose flour
2/3 cup sugar
2 sticks (1 cup) cold unsalted butter, cubed
1/2 teaspoon almond extract
2/3 cup cherry jam
1/3 cup red raspberry jam
Glaze
1 cup powdered sugar, sifted
1/4 teaspoon almond extract
1/2 tablespoon unsalted butter, melted
1-2 tablespoons milk
Instructions
Preheat oven to 350 F and grease a 9x9 square baking pan.
In bowl of your food processor, pulse to combine flour and sugar. Add almond extract and pulse two or three times to combine. Add butter all at once and process until coarse crumbs are formed, just as the dough begins to come together. Dump two-thirds of the crumb mixture into prepared pan and press evenly. Set remaining crumb mixture aside for the topping.
Combine the two jams, stirring to break it up then spread over the crumb crust. Sprinkle remaining topping over the jam.
Bake in preheated oven for 35-45 minutes or until edges are lightly browned.
Remove from oven to wire rack and allow to cool completely before cutting into squares.
For the glaze, add almond extract, melted butter and one tablespoon of the milk to the powdered sugar. Stir to combine and add small amounts of remaining milk, as needed, until you reach a thick drizzling consistency. Drizzle over individual squares. Allow glaze to set before serving.