Rating: 
5
Prep Time: 
15 minutes
Cook Time: 
32 minutes
Total Time: 
47 minutes
Yield: 
75 cookies
Serving Size: 
3 cookies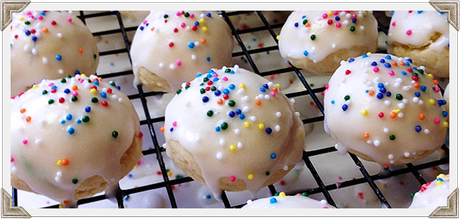 Brownies and Bar Recipes
Ingredients
1/2 cup unsalted butter
1/4 cup shortening
1/4 cup plus 2 tablespoons Truvia® Baking Blend
4 eggs
3 cups all-purpose flour
5 teaspoons baking powder
1/2 teaspoon salt
2 teaspoons anise extract (can use vanilla or lemon extract instead)
Glaze:
2 cups confectioners' sugar, sifted
2-4 tablespoons milk
Instructions
Preheat oven to 375 F.
Melt butter and shortening together. Add the Truvia® Baking Blend; mix well. Add the eggs, one at a time, beating well after each addition. Mix in the anise extract.
Sift or whisk together flour, baking powder and salt. Add to creamed mixture gradually. If the dough is too sticky to roll in the palm of your hand, add flour until firmer, but it should be very soft. Roll dough in small ballsand place on parchment lined insulated baking sheets.
Bake for 6-8 minutes (the bottom should be lightly browned but the tops should remain light). Remove cookies to wire rack and cool completely before glazing.
Glaze:
Add 2 tablespoons of the milk to the confectioners' sugar. Add small amounts of milk until you have a thick glaze This is usually 3 tablespoons for me. Keep it on the thick side. Dip top of each cookie into glaze. Sprinkle with colored jimmies or nonpareils while glaze is still wet. Dip and sprinkle 5 at a time, that seems to be the magic number before the glaze begins to set.