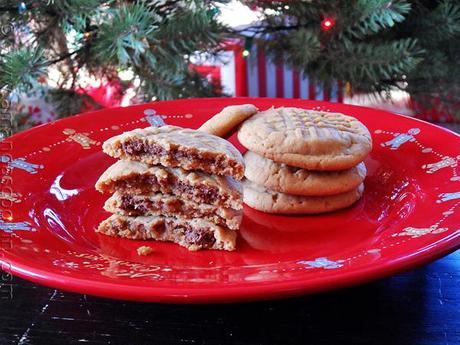 by amandas cookinSoft and chewy with a Nutella surprise inside, so delicious it'll be hard to keep your hand out of the cookie jar! When you bite into these peanut butter cookies, you will see and taste a delicious center of Nutella filling. A perfect combination and great for gift giving as well.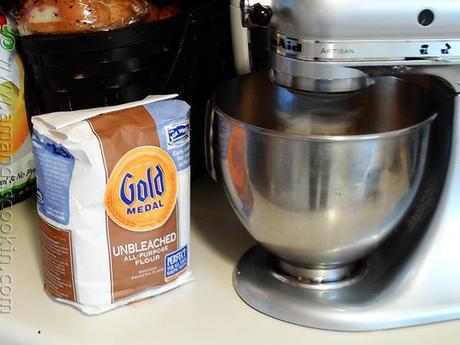 The fine folks over at 
Gold Medal Flour
 asked me to come up with a recipe fit for this holiday season. I prefer unbleached all purpose flour for my recipes, but Gold Medal Flour also offers several other varieties including self-rising, whole wheat, "Better for Bread", all-purpose organic and white whole wheat flour, among others.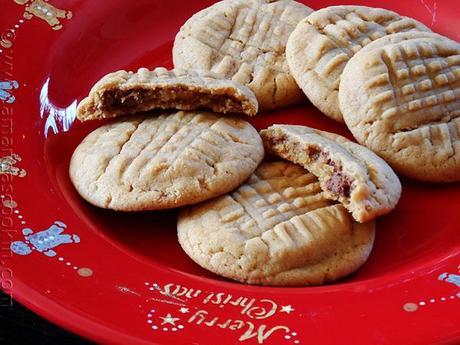 It's a tradition for me to make my peanut butter cookies every Christmas, and I've made variations of them as well such as these Nutella Peanut Butter Cookies and these Chocolate Peanut Butter Cookies.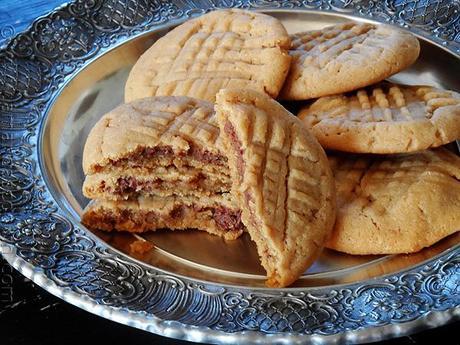 I was inspired by several cookies I've seen around where a peanut butter mixture is rolled inside a chocolate cookie. I decided to do the opposite and use my peanut butter cookies stuffed with a Nutella mixture. the results were amazing!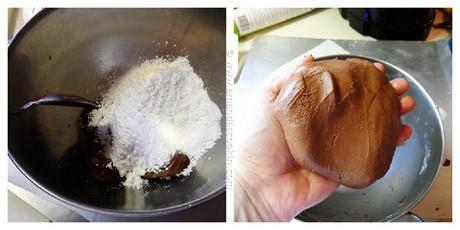 [Get the full printable recipe below] The Nutella filling is made up of peanut butter, powdered sugar and Nutella. It forms a soft dough that's easy to work with.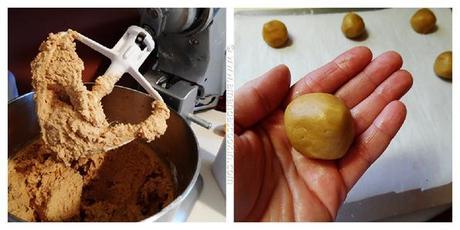 After you make the cookie dough, you'll pull it out by heaping tablespoons…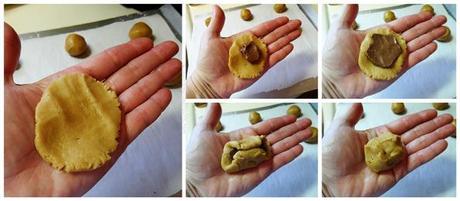 Roll it into a ball, flatten it, place a teaspoon of Nutella filling in the middle, spread it out a little to flatten it, then close the cookie dough around it and roll into a ball.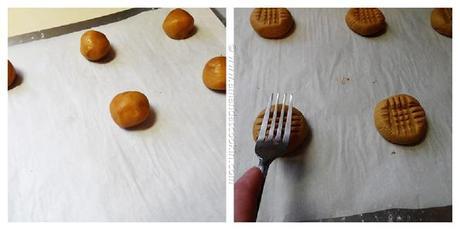 Place them on a parchment lined cookie sheet and cross them with the tines of a fork. Bake, cool, devour.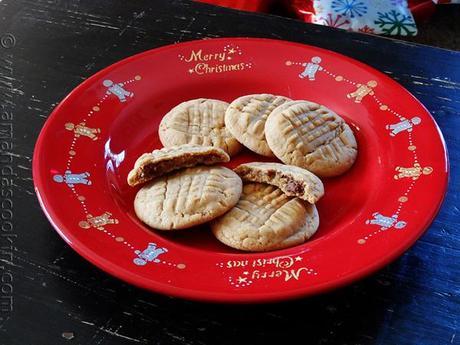 I couldn't keep everyone's hands out of these. I'll be making another batch this week to send to school for teacher gifts.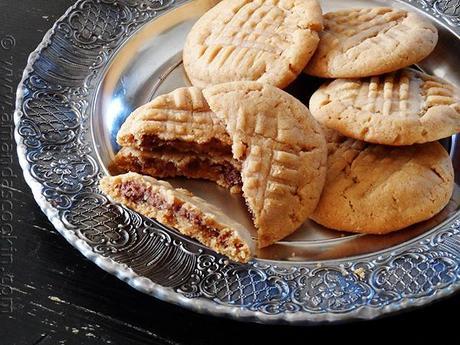 What kind of cookies are you making this holiday season?
Rating: 
5
Prep Time: 
25 minutes
Cook Time: 
8 minutes
Total Time: 
33 minutes
Yield: 
33 cookies (11 servings)
Serving Size: 
3 cookies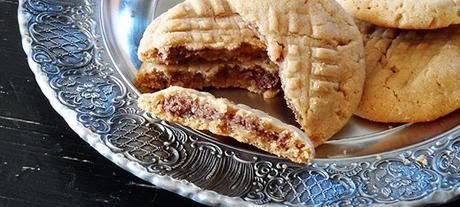 Brownies and Bar Recipes
Ingredients
1 3/4 cups Gold Medal Unbleached All Purpose Flour
3/4 teaspoon salt
3/4 teaspoon baking soda
1/2 cup unsalted butter, softened
3/4 cup creamy peanut butter
1 1/4 cups firmly packed light brown sugar
3 tablespoons milk
1 tablespoon vanilla
1 large egg
Filling:
1/3 cup powdered sugar
1/3 cup Nutella chocolate hazelnut spread
2 tablespoons creamy peanut butter
Instructions
Preheat oven to 375 degrees F.
In a medium bowl, whisk together flour, salt and baking soda. Set aside.
In a large mixer bowl, beat butter, peanut butter and brown sugar on medium high speed until light and fluffy, about 4-5 minutes. Turn mixer down to low and add milk, vanilla and egg. Mix until combined then turn up to medium high for one minute. Scrape down sides of bowl and turn mixer on low.
Slowly add the flour mixture until just combined.
In a small bowl, mix together the filling ingredients to form a soft dough.
Measure a heaping tablespoon of cookie dough and roll in your hands a moment, then flatten it in your palm. Measure 1 teaspoon of filling dough and place it in the center of the cookie dough. Gently spread it across the dough a bit, then close the cookie dough around the filling, forming a ball. Roll in your hands and place on the cookie sheet. Flatten slightly in crisscross pattern with tines of fork.
Bake for 7 to 8 minutes, or until set and just beginning to brown. DO NOT OVERBAKE. Cool 2 minutes on baking sheet. Remove cookies to racks to cool completely.