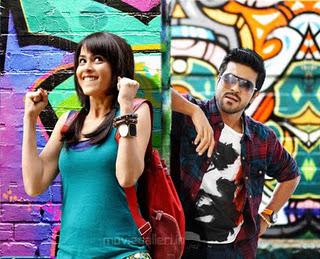 Hi friends, am happy to write this post about Orange audio which was launched few days back. Harris Jayraj who has done 2 direct Telugu films in the past have no success yet. But tell u Orange songs are simply rocking.Not very peppy and foot tapping but soothing for ears. Soft and refreshing and mostly appeal to youth. This album have 6 songs in total. Tell u in complete Bommarillu Baskar and Harris Jayraj finally have produced a youthful,fresh and soothing audio altogether.
Oola Olala
This is the very first song of album. But takes u to other world. Karunya performed very well.Jus a awesome song. This song is for everyone who are in love,who are going to love. Sydney Nagarm simply rocks. Lyrics are simply extraordinary. A very soothing song to start with. Best number and heart touching.
Chilipiga
This is a solo number and a very soft number to. This song is performed by Karthik. As usual Karthik's voice is jus like a magic. I loved the way song begins. A soft melody fantastic archestraisation. Karthik is an asset for the song. 
Nenu Nuvvanattu
Again a soft number a feel good melody. This song was performed by Naresh Iyyer and Nadeesh. Am a very big fan of Naresh Iyyer and Rahul Nambiar. Naresh's voice is an asset for the song. Lyrics are good. Song starts off well and takes u too another world. Targeted love song sings about a guys feelings in love. A super song.
Hello Ramante
 At last a Harris Jayraj kinda falvour song with some western beats mixed with some melody. Its a Harris Jayraj's trade mark song. lyrics are very good. Lyrics are very audible even beat follows the complete song. Very metallic yet very clear lyrics is the specialty of this song. Devan and Vijay Prakash performed well for this song.
O Range
This is also a western mix with some beats. Benny Dayal have sung the number. U may like the song after 2 are three listenings. But a gud thing is lyrics are very clearly audible in this trace too. Not very racy yet not a melody and lyrics are rythamic. Nice number.
Rooba Rooba
 This is my favorite  song in the album. God takes u to some where. Song begins with a humming which has been heard yet gives a good feel for the entire song.  Shail Hada and Chinmayee just gave life for the song. A feel good song.
Overall analysis is just buy the audio. Harris jayraj at his best. No foot tapping songs and mass numbers yet a very fresh audio. But my feeling is that it wont appealto mass audiance. Rooba Rooba and Sydney Nagaram are the best songs in the album. All songs are melodious and have good lyrical values. Fresh audio in last few months.