Hey loveys,
Oh my god.. it happened again... I really need to put "Blog" in my planner so I can actually plan out days that I'm going to write for you.. Bah!
Not much to update you on really... School is still really good!! I'm loving most of my classes, and today I actually had to do a Summary Assignment in English class worth 15% of my final mark... I think I did well, I read and reread and reread again all of my work, made sure my spelling and grammar were correct and all of it was written in the 3rd person but in the present tense. Lol... I also had to get together and work on a group presentation today for my Business class. I got 100% on a math quiz last week (holla!) and I had my first Computers class last week where I had a lesson on learning how to use Microsoft Word. Lol... If I don't get 100% in this computers class I will be extremely disappointed in myself.
As you know I've been training with my trainer Deanna from Optimal Body Fitness for about 4 weeks now. Last week we discovered that the hardest thing for me to do is get in all of my meals throughout the day. My last post touched on my new adventures in food preparation... Things have still been going well but it really does take a good chunk of time and commitment. The plan calls for me to have 6 small meals every day, one meal every 3 hours... plus anywhere from 3-4 litres of water everyday and my supplement regime. To get kind of an idea of how my body has changed, here is a before and after. This.... is not fun for me to show you lol. But whatever - here you go!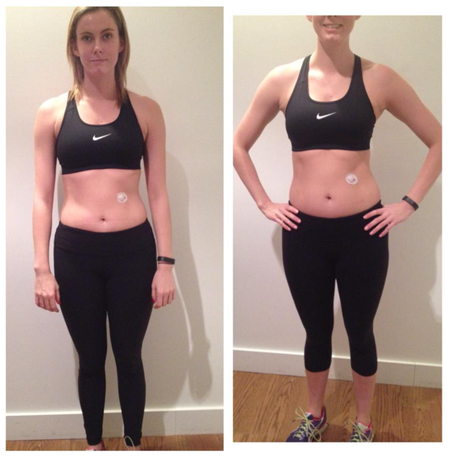 Don't mind the white thing on my stomach, it's my diabetes thingy...
So anywho - see the change?? Isn't it lovely??? On Friday last week I got measured in about 12 different fat spots again and there have been some pretty neat changes... Jon (the owner of Optimal Body Fitness) pinched me with a skinfold calliper and compared it to the first time we did it. In total I'm down 2% body fat (from 21% to 19%), I'm down 2lbs in total but I've gained 1lb of muscle, I've lost 20mm of fat! Wahoo!!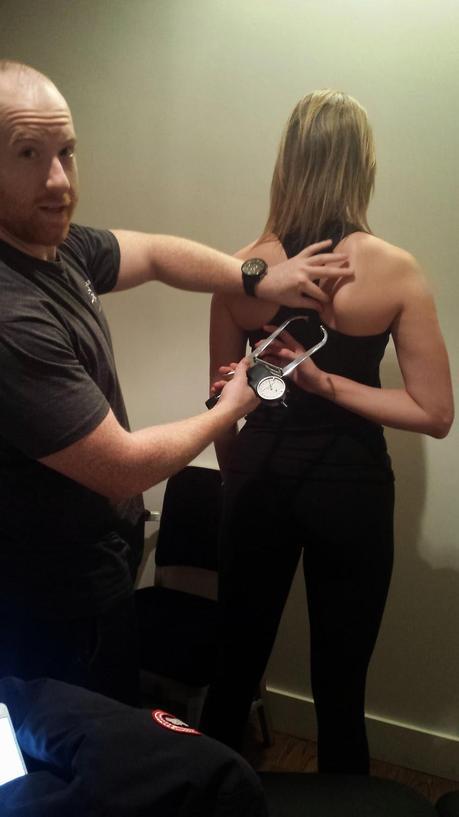 I'm actually to the point now where I'm not INSANELY sore after my workouts anymore (I still get sore, but not to the point that I can't walk) and I look forward to seeing my workout partner Felicia and trainer Deanna! They make my workout fun... well, sometimes not Deanna because she yells at me when I'm being lazy (LOL) but for the most part she's fun!
We took some photos last week of one of our workouts...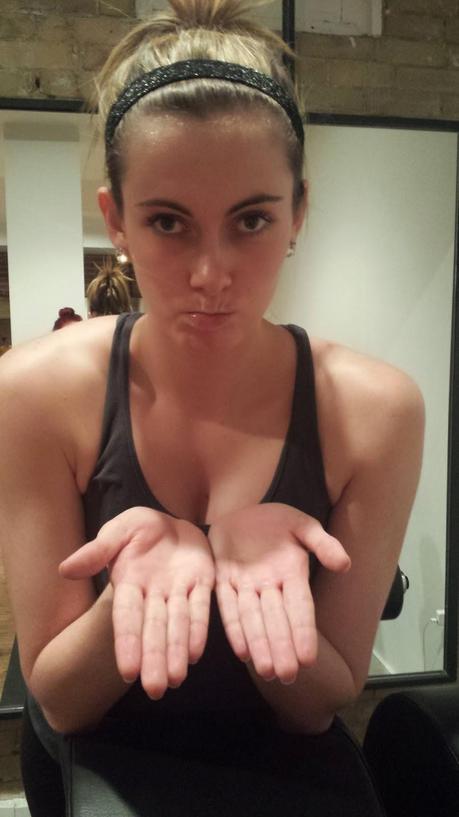 Sore callus palms.. I bought workout gloves!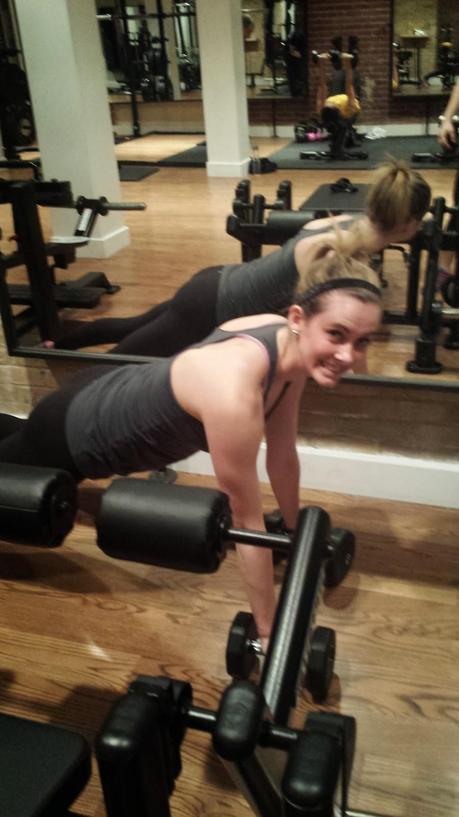 Plank + Dumbbell Row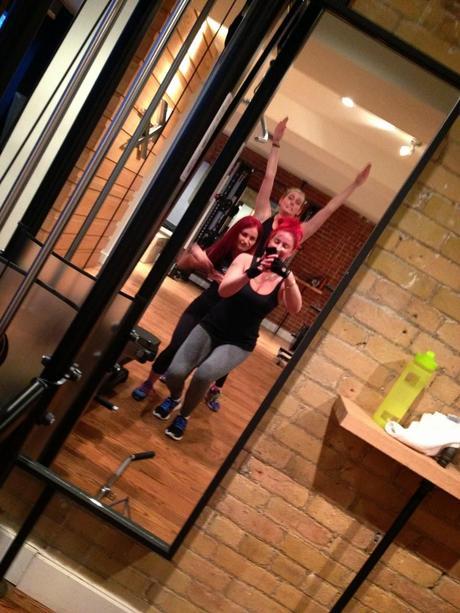 Felicia, Deanna and crazy arms Me in the back.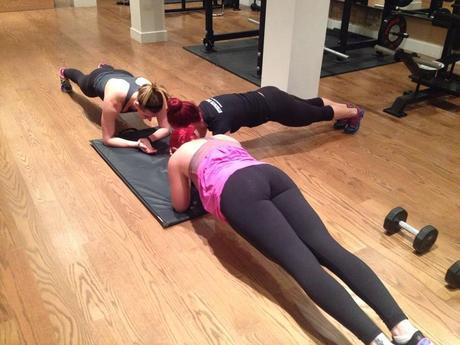 Planks for all at the end of the workout!
I have my next workout at 4:30 today and usually Monday's are hard because I become lazy on the weekends. I know today is a hard, deadlift, squats, back, bicep type day so I just need to mentally prepare and all should be good! After seeing how much fat I've dropped and seeing the before and after photo (that before and after photo is only 1 week difference by the way...) it really motivates me to want to work harder and not cheat on my diet and be really strict with out I eat. I get another measurement session in another 4 weeks so hopefully you'll be able to see even bigger results at that time!
Q: Are you good with eating more small meals throughout the day, or do you eat 3 meals a day?