O.P.I NAILS : TOURING AMERICA COLLECTION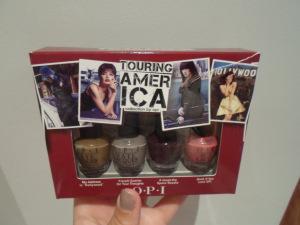 Hey there!
So here is another blog, of my ever growing collection of O.P.I nail polishes. I really rate these mini collections, as you get to try several different colours, and because of their size, they don't dry out, (If only they could invent a never ending polish).
The brush is a little harder to control, (Purely because of the size) but the formula is just as good, leaving behind no streaks and they dry quickly. The collection is from 2011, so I think you may only find them on line, but most O.P.I polishes will retail at around £7.00-£9.00.
From left to right we have:
My 'Address' is Hollywood
French Quarter for Your Thoughts
A-Taupe the Space Needle
Honk if You Love O.P.I
The only problem with sets, is they always stick in an 'ugly' colour. In this case I think they stuck in a colour from a batch gone 'wrong'. I know everyone has different taste when it comes to nail polish, but I was hoping for a nice nude beige colour, and instead got a coffee, brown, of which I promptly took off after application, (And will never wear again).
And here it is, 'My Address is Hollywood' the 'Ugly' colour from the Touring America Collection.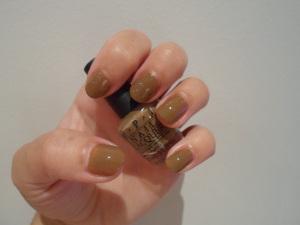 Luckily, the rest of the collection was alot better. The second one in the box 'French Quarter for Your Thoughts' is a lovely grey, it is very light in colour, and great for any occasion, (I think this one is my favourite).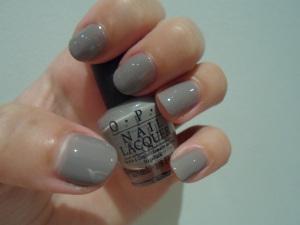 The third one is 'A-Taupe the Space Needle', a beautiful dark plum colour. A must have colour for the winter months.
And finally 'Honk if You Love O.P.I', (Which is a close favourite with 'French Quarter for Your Thoughts'). Now I'm not really a girly girl, but I do love my pinks, (As you may have guessed from my previous nail post), so it was obvious that I was going to love this one. Out of the three this one is the only one with a slight sparkle to it.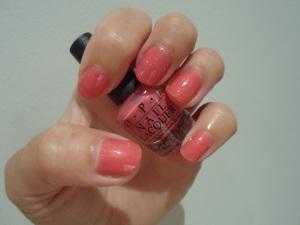 WHAT'S YOUR FAVOURITE COLOUR FROM THE COLLECTION?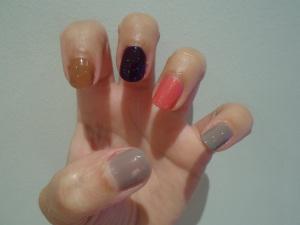 (I have applied two coats of each polish, shown in each photo)
Have a lovely evening.
Lots of Love,
KBxx