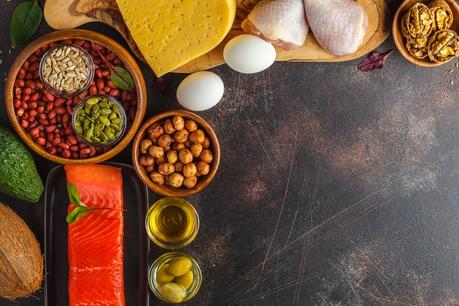 Is a diet that gets 45% of its energy from carbs a low-carb diet? Will it help improve the health of people with diabetes and other metabolic conditions?
Dr. Mark Cucuzzella, a leading US low-carb advocate, answers with a resounding "NO!"
In fact, he warns in a recent op-ed, "the health of millions of Americans will be endangered" if US federal health officials endorse a so-called "low-carb diet" that sources 45% of its energy from carbs.
Labeling a diet that derives nearly half its calories from carbohydrates as "low-carb" is not only unscientific, it's dangerous. Folks who follow this recommendation won't see any of the benefits of a true low-carb lifestyle. Their health will continue to deteriorate - and they'll dismiss "low-carb" diets as ineffective.
Lewiston Sun Journal:
Federal Nutrition experts serve up dangerous dietary advice
Dr. Cucuzzella is a professor at West Virginia University School of Medicine's Center for Diabetes and Metabolic Health and one of the accomplished clinicians on Diet Doctor's expert panel. He single-handedly convinced his small hospital in Morgantown WV to adopted a true low-carb diet for both patients and staff - with impressive and inspiring results.
Dr. Cucuzzella wrote his recent op-ed in response to news that the expert panel that decides the Dietary Guidelines for America is reviewing the option of including a low-carb dietary pattern in the next version of the guidelines. That's because a growing body of research is showing that low-carb diets can prevent and even reverse diabetes and improve other health conditions.
But the diet must truly be low in carbohydrates to work well. We define a liberal low carb diet as 50-100 grams per day, a moderate low-carb diet as 20-50 grams, and a ketogenic diet as less than 20 grams. That equates to less than 20% calories derived from carbs and as low as 5% in the keto diet.
He notes that his patients with diabetes and even he, himself, who has been diagnosed with type 1.5 diabetes (also called LADA for latent autoimmune diabetes in adults) cannot handle even slightly higher carb loads.
If many of my patients and I consume more than 50 grams of carbs a day our sugar goes out of safe range, no matter how much we exercise - and I am an avid runner.
Dr. Cucuzzella concludes:
The government must do more than simply repackage the same misguided dogma that has endangered public health for decades.
Earlier
New study: low-carb diet reduces food cravings and improves eating control ADA cautiously endorses low-carb nutrition
More