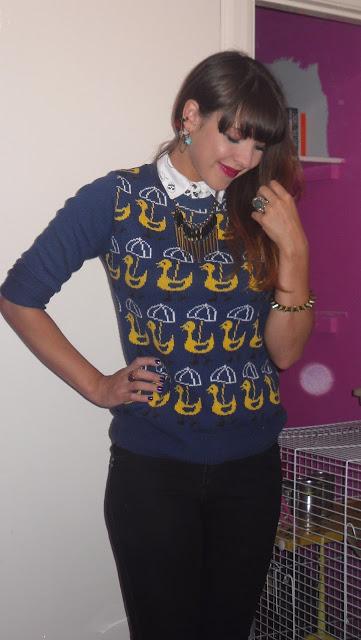 Jumper: The Clothes Show similar here//Jeans: Primark//Shirt: Primark
Yay it's the mid-week! I hope everyone can taste the weekend as much as I can. Ooh, I'm so looking forward to it! I spent my weekend baking cupcakes and peanut butter slices. I honestly think that baking has calmed my nerves down so much about uni work and general stress. So I suspect I shall be baking all of the time now!
I saw Greg Davies Monday!!! Eeee. He was as funny as I thought he would be, and I actually thought I was going to loose my voice due to laughing so much. My boyfriend and I went to Wagamama's Tuesday night. I love it there. I never fully understand what I'm ordering, but it's always tasty! 
And the weekend is Alton Towers Scarefest!!!! I couldn't be more exited if I tried. Hopefully I'll be fully fighting fit by the weekend, I think I've got a small dose of the flu that's going around. BOO!