I think 'Juncker the Drunker' must have sobered up because his timing was terrific.  Just as 'Dim Dave' arrives at the Brussels meeting an 'EU debt collecter' slaps an invoice for nearly £2bil into his hand and demands payment by the first of December!  If you have ever wondered what 'gob smacked' looks like, here it is: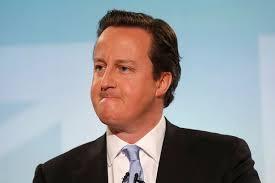 So there goes the Rochester by-election, perhaps by an even bigger margin than the Clacton one.  And, next week, here comes a massive Tory backbench revolt on signing up to the European arrest warrant bill.  Followed by, perhaps, even more Tory MPs defecting to UKIP.  And perhaps, just perhaps, in their fear and loathing, Tory MPs will consider Dave's political assassination.
Or, again, perhaps, in his own welter of fear and loathing, Dave will amaze us all by taking a big gamble and announcing both his absolute refusal to pay and, say, a much earlier in/out referendum and his willingness to campaign for 'out' if his terms are not met.