Wow!  It's time.  I leave for Boston on Friday!!  To say I am excited is an understatement.  To say I am looking forward to it sounds silly -- I am so much more than "looking forward" to it.  I am over the moon - so so so happy and incredibly grateful - to head up north for this amazing experience and truly wonderful race.  To hug my friends and loved ones, to run with them and laugh with them and I'm sure cry with them, to be a part of this overwhelmingly amazing event and the massive movement of healing and strength and celebration that it will be.
Words just don't do any of what I am feeling even a teeny tiny amount of justice.  It is BIG.  Just so BIG.  I feel so lucky!
The last few weeks have been so busy.  Good busy, but wow SO busy.  I have been completely immersed in my Pilates teacher training.  I love love love it, and am really excited about it, but the training itself and the work that goes along with it is A LOT of work, and balancing the practice and study along with parenting, teaching, coaching and running and just being a human has been quite an adjustment for me.  I am learning though and I have it down, most days!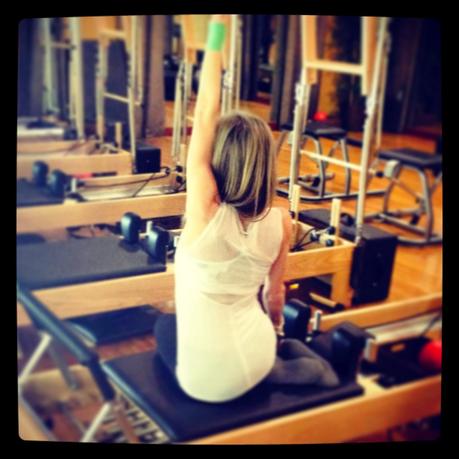 mermaid stretch - a favorite, but a tricky one for me to teach!
Then of course a few weeks ago I fell and bruised my kneecap when I took a spill off the ElliptiGo.  It wasn't a bruise that you could see - actually there was never any discoloration and it really didn't even look swollen - but the bruise was much deeper than that and in the bone itself.  This caused some of my quad muscles and tendons around the knee to be not-so-happy and made me feel pretty uncomfortable and unsure of myself on the run.  I have taken my recovery very seriously and had to be extremely patient in order to allow myself to heal.  It has been hard at times, running through pain I was unsure of at first, then taking time off from running altogether for several days, then running at a lower intensity (both mileage-wise and pace-wise) and also adding in time for icing and strengthening exercises and more foam rolling, etc.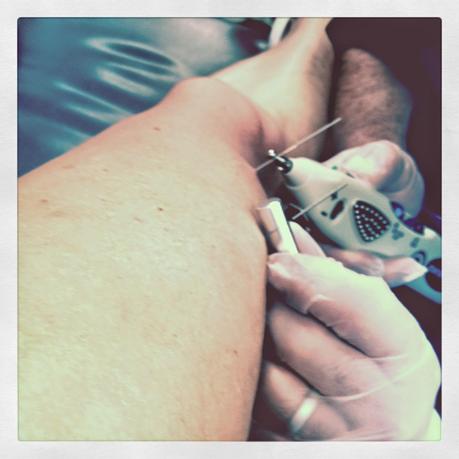 dry needling
I have been doing physical therapy for it and also seeing my chiropractor regularly over the last few weeks.  Every week I have felt a little better but not ALL better and I have tried to trust the process and let go of any worries about how I might feel when April 21st rolls around.  It's sort of been an emotional roller coaster of having good days and less-than-good days.  This last week though I finally felt like I turned a corner - I am feeling so much more like myself!  The worry is lifting off my shoulders and my focus is on BOSTON and being ALL IN for that whole experience, whatever that means as far as running goes is not even close to being the most important thing to me right now.  I do have a great feeling about it though, a really really great feeling.
This morning I went for a run with my buddies Maddie and Meghan and practiced what I think will be my goal race pace (somewhere in the neighborhood of 7:00/mile).  It came to me effortlessly, feeling more like the "me" before falling, and I finished with a HAPPY heart.  We chatted the whole way and the topic of conversation pretty much the entire time was BOSTON.  Maddie and Meghan are two of my favorite people in the whole wide world and they are both running Boston for the first time!  I can't believe how lucky we are to all be going together.  Stepping into this amazing dream TOGETHER!!  There is so much to celebrate I don't even really know how to put it into words.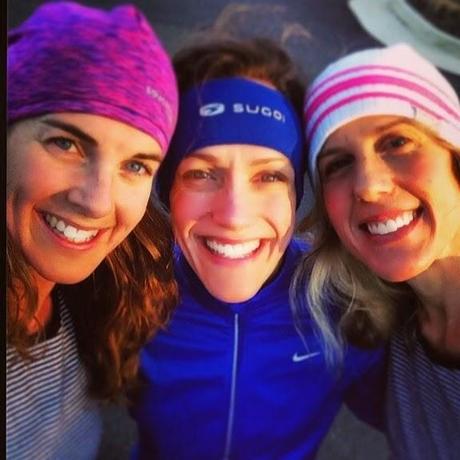 we are going to BOSTON!
Boston is about so much more than running 26.2 miles.  Well, every marathon is about so much more than running 26.2 miles in my opinion, of course... but there is without a doubt something extra magical and special about THIS race.  And this year, after what happened last year, is going to be even more amazing than I can possibly imagine.  I'm ready to rise up to it, to embrace it, to open myself up to it, to share it, and to cherish and treasure every second of it.  I feel SO blessed, so lifted up!, and I will run with my heart as fast and as strong as it will carry me on Monday.  Onward and upward, Boston, HERE WE COME!!!!