I give you . . . Lord Richards of Herstmonceux, aka, General Sir David Richards . . . no, go on, take him . . .  he's all yours . . . no charge!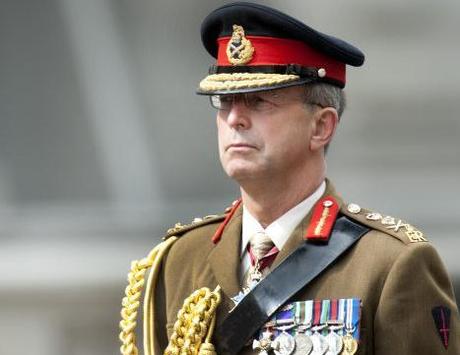 Today, this less-than-worthy former Chief of the Defence Staff has laid into the government, in general, and the Minister for Defence, in particular, for apparently leaving Britain's armed forces 'little better than those of a banana republic'.  Apparently, or so he would have us believe, he was dead set against all those financial cuts which have inflicted more losses on our army than all of our post-war enemies put together.  So what did this plonker say whilst he was in the top job and responsible for the defence of this country?  Er, nothing, actually!  Oh yes, he was frightfully rude in private about the so-called 'cost cutters' in the Ministry of Defence because apparently they have put a stop to the Chief of the Defence Staff having a 'grace and favour' appartment in Kensington Palace - I know, I know, shockin', shockin'!  But as to the dire state of our army he had to wait until his bum had slid along the benches to his allotted seat in the House of Lords and he could begin to pick up all the dosh that comes with being 'ennobled' before he could pluck up the courage to tell us all that the nation was in danger because all we have left today is a 'Micky Mouse' army.
Perhaps, just perhaps, if he and his fellow arse-lickers in the navy and the air force had had the guts to forego their fancy titles and threaten to resign en masse the politicians might have thought twice.  Heh, fat chance!