"Anything is good if its made of chocolate"
And what could be better than an easy-peasy chocolate cake made in a jiffy?This decadent dark chocolate cake is a must for everyone's repertoire as its super moist and made in a single bowl.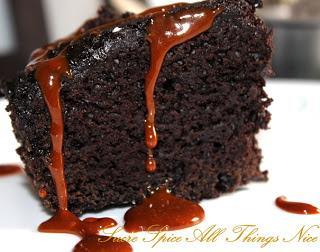 I was looking for an easy recipe for my daughter who wants to learn a quick n easy chocolate cake.The cake is good to go in the oven by the the time the oven is  pre-heated. I added some coffee to it .The combination of dark cocoa and coffee is like a marriage made in heaven!!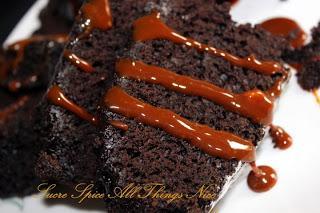 The cake is versatile as it can also be made into layers with fillings or just enjoy it with some sauce. Here the indulgence was just a drizzle of burnt caramel sauce !!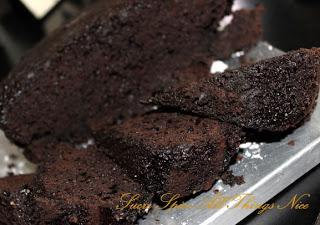 The recipe has been minimally adapted from here
I
ngredients
3/4 cup         cocoa powder

1 1/2 cups     sugar
1 1/2 tsp       baking soda
3/4 tsp          baking powder
3/4 tsp          salt
2                   eggs
3/4 cup          buttermilk
3/4 cup          warm water 2 tsp              coffee
3 Tbsp            oil
1 tsp              vanilla
Preheat oven to 180 C. Butter one 8-inch round cake pan and dust it well with cocoa. 

In warm water add 2 tsp of coffee powder and keep it aside.

Sift cocoa, flour, sugar, baking soda, baking powder, and salt into the bowl of a mixer. Beat on low speed until just combined. 

Raise speed to medium, and add eggs, buttermilk, coffee, oil, and vanilla. Beat until smooth, about 3 minutes.
Pour batter into pan. Bake until set and a toothpick inserted into the centers comes out clean, about 45 minutes. Let it cool for 15 minutes. Remove the cake from pan and let it cool completely.