Hey Lovey,
Happy Sunday! Sunday Funday! Well.. today isn't what I'd call a "Fun Day", I slept until almost noon (whoopsies) and then cleaned the apartment, sorted my clothes and got rid of what I didn't need/want/could stand to look at anymore and now I'm catching up on some serious blogging.
Remember my vlog last week where I talked about the insane leg workout that Trainer Friend put me through? Today is the FIRST DAY after that workout that I haven't been ridiculously sore. I swear to GOD. I couldn't walk, or sit, or pee, or climb stairs, or do anything for FOUR FRIGGEN DAYS after that workout!!!! Clearly I need to do lower body conditioning more often. Shit man.
I decided I'm going to share with you my plans for the upcoming week or workouts. That way I can kind of check in and let you all know when I've completed each one. I think I mentioned in my last post that I have a gala to attend this coming weekend for work and I bought a killer dress for it, so I want my arms and my legs to look killer in it as well :).
Monday - Run in the morning before work, and do upper body weights on my lunch break
Tuesday - Run in the morning before work, and do lower body weights on my lunch break
Wednesday - Cardio on my lunch break
Thursday - Run in the morning before work and do upper body weights on my lunch break
Friday - Run before I head to the convention center for our annual fitness conference, canfitpro.
Saturday - Rest day.. conference all day and gala at night! :)
Sunday - Rest/Hungover day.
I really hope I can actually do this. I need to! I'm going to a gala with like, hundreds of fitness people, I need to at least look the part! :P.
This past week Michelle & I signed up for another race!! We're doing the Yorkville 5km race on September 8th. I'm really excited to run this race because it's in Yorkville (my favorite area of Toronto) and it's during TIFF (Toronto International Film Festival) which means there's bound to be some celebrity appearances or runners, and it's also one of the fastest 5k races in North America. I think the guy that won it last year ran it in like 15 minutes. Pff. 3 minute kilometers, no big deal right? The race is in support of the YWCA Women's Shelter's so I'm glad that I can be a part of that as well.
Michelle said something about going for a PR in this race. It kind of makes me want to go for a PR as well. Which means I have to start speed training. I know I can do the 5km distance no problem, it's just getting faster that I'm going to have to work on. During my runs this week I'm going to incorporate sprints as a beginning to my speed training. I think my current race PR for a 5km is 28:03, so maybe I'll make my goal to get under 27 minutes. That seems reasonable, right? I also have to remember to put the KT Tape on my legs before I hit the pavement, so I'll have to do that tonight before bed. I hope the dreaded shin splints don't come back!
Last night I went out with a girlfriend of mine who was in town, Alyssa! Her and I have been good friends since grade 9, so about 11ish years now. We went out with her brother and his roommates to Crews & Tangos to watch a Drag Show. It was suuuuuuper fun and I love going out with her because she's always such a good time.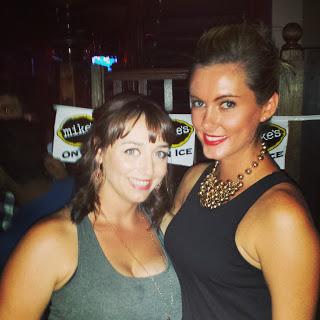 I managed to snap a photo with each person we went with too. I'm such a camera whore sometimes.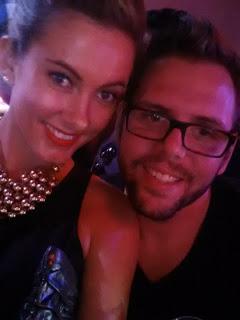 Me and Justin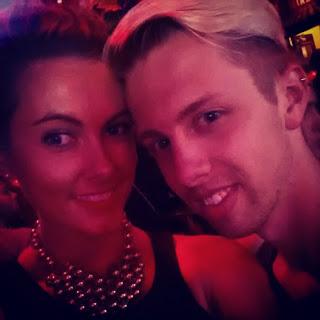 Me and Tyler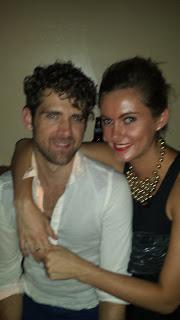 Me and Derek
Aaaaand I snapped some photos of the drag show as well. Obviously :)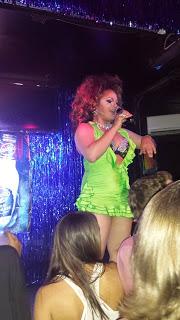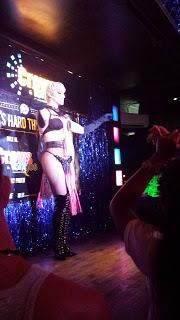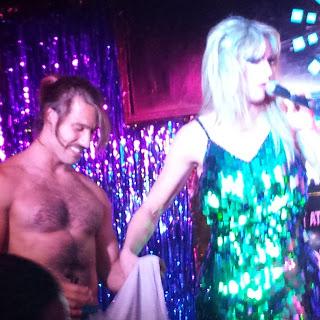 So much fun. I always have a blast with that gang.
Earlier yesterday C and I went and spent the day in Yorkville, which is a super cute shopping area in Toronto. C and I went to Remy's on Cumberland St for lunch!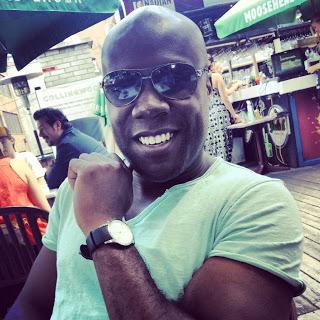 We both ordered Lobster Ravioli. It was super good. I honestly don't know the last time I actually ordered pasta at a restaurant. I'm not a huge pasta fan on the best of days (I hate lasagna, I had spaghetti... pasta just isn't my thing) but if you through lobster meat on it, Lord knows I'll eat it. And it was delicious. I managed to purchase a couple small items as well!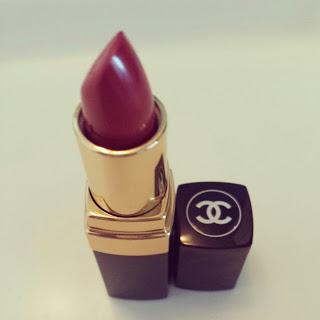 I got the best red lipstick ever from Chanel, and...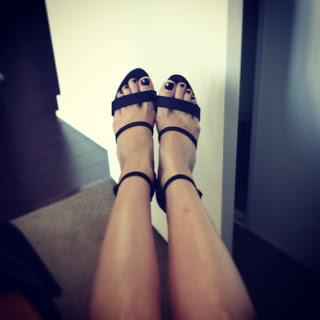 ... a new pair of shoes as well. I love these shoes and got them at half price, so double win for Sarah! I didn't wear them out last night. Turns out their really high and hard to walk in, so it might be a while before I venture out into the world with these. I need to practice walking in them at home first! :)
It was really nice to walk around with C all day. We don't get out just the two of us and just do whatever we want to often so I like when we get the chance to :). We then managed to have dinner at..... guess where? ROCK LOBSTER! Omg it was the best, it's ALWAYS the best there. I had my typical lobster devilled eggs and lobster roll.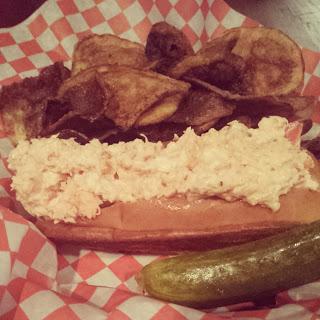 I don't typically eat the chips that come with the lobster roll because they're pretty greasy and really deep fried, so I think next time I'm going to order mashed potatoes with my lobster roll. Is that weird? They have such mouth watering mashed potatoes though..........
Q: What was the best part of your weekend?
Q: Is it just me, or do other people practice walking in shoes before they actually wear them too?