Onam is the time to rejoice. In my school time I celebrated Onam tremendously. When Onam festival falls it's like a carnival time and schools get closed. Me and my friend had lots of fun at the time of Onam. In schools different types of events are held and all classes are been participated in this events and everyone enjoys the moment. Events like tug of war, kaikottikali, valupari, kalam thali potikkal, nadan pattu competitions and the main event pookalam. For the pookalam competition all student get lots of different varieties of flowers and after organizing a good design very sophisticated the flowers are arranged in the pookalam and in the competition whose pookalam is looking best wins. After all the events are over we all together have our lunch, in onam lunch is called as onasadya. In onasadya we have lots of dishes and delicious payasam as the desert is awe-inspiring one.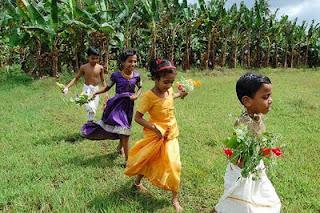 Onam is the biggest festival celebrated in the land of Gods Own Country. This festival falls during the Malayalam month of Chingam (Aug - Sep) and this month is regarded as the homecoming of the legendary King Mahabali. Being a harvest festival, it is like a moment to thank God for the bountiful yield. The festival of Onam goes for ten days and a number of rituals are performed during the ten days of this festival. Onam festival is celebrated for ten days and while this days it shows the best Kerala culture and tradition. While in this festival you may get the chance to explore Sophisticatedly decorated Pookalam, mouth watering Onasadya, overwhelming Snake Boat Race and awe-inspiring Kaikottikali dance, and much more customs.
The best part of Onam celebration is the grand feast called Onasadya, prepared on Thiruonam. It is a nine course meal consisting of 11 to 13 essential dishes, which includes; Rice, Erissery, Kalan or Pulisseri, Olan, Aviyal, Thoran, Mulakoshyam, Koottukari, Sambar, Rasam, Pappads, Pickles, Upperi or Chips, Payasam, Prathaman. Onasadya is served on banana leaves and people sit on a mat laid on the floor to have the meal.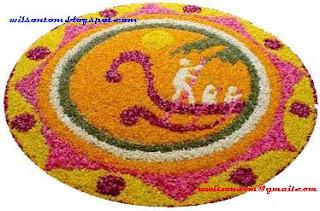 Another enchanting feature of Onam is Vallamkali, the Snake Boat Race, held on the river Pampa. It is a colourful sight to watch the decorated boat oared by hundreds of boatmen amidst chanting of songs and cheering by spectators.
There is also a tradition to play games, collectively called Onakalikal, on Onam. Men go in for rigorous sports like Talappanthukali (played with ball), Ambeyyal (Archery), Kutukutu and combats called Kayyankali and Attakalam. Women indulge in cultural activities. They make intricately designed flower mats called, Pookalam in the front courtyard of house to welcome King Mahabali. Kaikotti kali and Thumbi Thullal are two graceful dances performed by women on Onam. Folk performances like Kummatti kali and Pulikali add to the zest of celebrations.
The story behind Onam
The story goes that the beautiful state of Kerala was once ruled by an Asura (demon) king, Mahabali. The King was greatly respected in his kingdom and was considered to be wise, judicious and extremely generous. It is said that Kerala witnessed its golden era in the reign of King Mahabali. Everybody was happy in the kingdom, there was no discrimination on the basis of caste or class. Rich and poor were equally treated. There was neither crime, nor corruption. People did not even lock their doors, as there were no thieves in that kingdom. There was no poverty, sorrow or disease in the reign of King Mahabali and everybody was happy and content. His fame as an able king began to spread far and wide, but when he extended his rule to the heavens and the netherworld, the gods felt challenged and began to fear his growing powers. Presuming that he might become over-powerful, Aditi, the mother of Devas pleaded with Lord Vishnu to curtail Mahabali's powers. Vishnu transformed himself into a dwarf called Vamana and approached Mahabali while he was performing a yajna and asked for alms. Pleased with the dwarf brahmin's wisdom, Mahabali granted him a wish. The Emperor's preceptor, Sukracharya warned him against making the gift, for he realized that the seeker was no ordinary person. But the Emperor's kingly ego was boosted to think that God had asked him for a favor. So he firmly declared that there is no greater sin than going back on one's promise. He kept his word.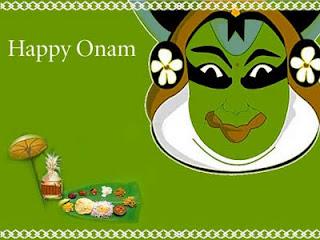 The Vamana asked for a simple gift — three paces of land — and the king agreed to it. Vishnu in the guise of Vamana then increased his stature and with the first step covered the sky, blotting out the stars, and with the second, straddled the netherworld. Realising that Vamana's third step will destroy the earth, Mahabali offered his head as the last step.
Vishnu's fatal third step pushed him to the netherworld, but before banishing him to the underworld Vishnu granted him a boon. Since he was attached to his kingdom and his people, he was allowed to return once a year from exile. Onam is the celebration that marks the homecoming of King Mahabali. It is the day when a grateful Kerala pays a glorious tribute to the memory of this benign king who gave his all for his subjects.