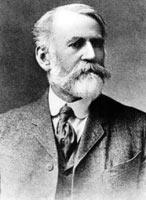 Dudley Allen Sargent was born on September 28, 1849.
Sargent was a physical culture pioneer who turned Harvard's Hemenway Gymnasium into the center of the training world in the late 1800's.
His motto was "mens sana in corpore sano" or a sound mind in a strong body. At his gymnasium, Sargent established mandatory physical training minimums for Harvard students, thus ensuring that his motto held true.