We've all been there. You wake up in the morning with a pounding head and groan at the very thought of moving. Bleary eyed, you stumble from your bed wondering 'what on earth happened last night' before making your way to the bathroom, only to find a tiger sitting in the bath tub. Okay, not really, although apparently that's what happens in Vegas. For the very few of you who aren't prone to hangovers (or don't drink at all) I wish my respect. The rest of you will know what I mean. Then your stomach makes that noise and you know it's time for food; some substantial food.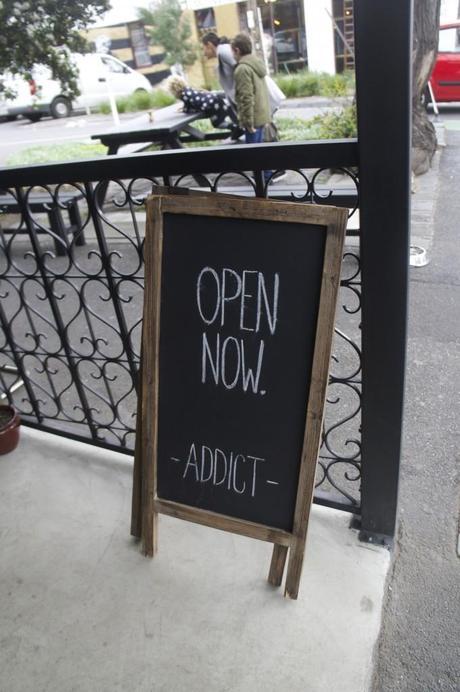 Addict Food and Coffee
240-242 Johnston St Fitzroy
9415 6420

Needing to pick move your car the day following a night of drinking is always a partly shameful and painful experience, especially if you feel awful. How does one make it better? Stop off for breakfast on the way of course, and Addict Food and Coffee on Johnston St was directly in my line of travel. On this Saturday morning, we were lucky enough to nab the last two seats right in the window. This window defines the space as light streams into a clean-cut café of predominantly whites. One could even call it bare if it weren't for hanging greenery and the bustling, friendly staff.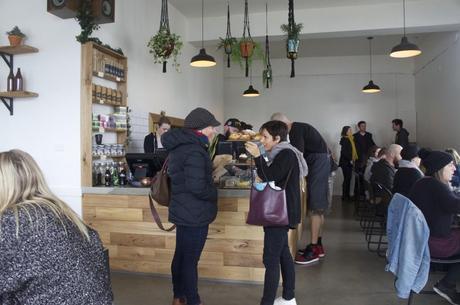 The coffee is Padre and comes black, white, pourover or the Addict brew; a steaming, glass-contained concoction that keeps the coffee lovers at bay. For those lactose intolerant like myself, the soy milk is Bonsoy and the baristas have done a great job to ensure a smooth coffee.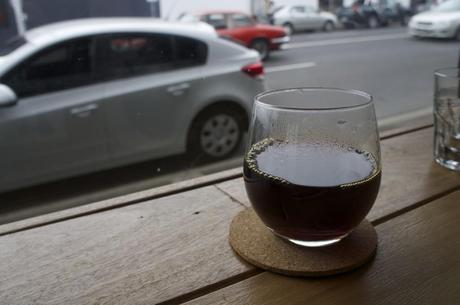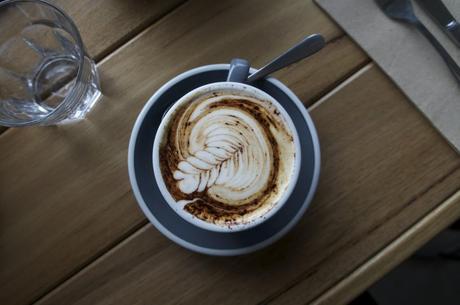 It's common knowledge that a hangover feed must be a substantial one and no one could accuse Addict of too few of these options. Sweet teeth can sink into stacks of buttermilk pancakes (marscapone and all) while those carnivores can have their black pudding and eat it too. Pop in after 11:30 and the lunch options open up: pork belly, duck confit, quinoa salads. Perving on the dishes wafting past to other tables had my appetite whet well before I chose my own.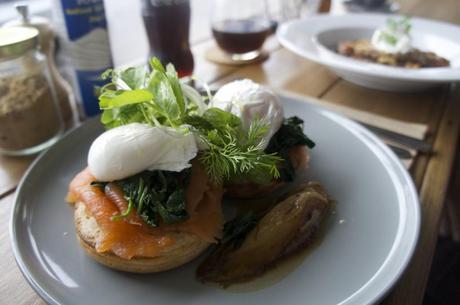 It is the presentation at Addict that I marvel most. Large, clean white plates host perfectly placed brightly coloured dishes that appeal to the eye and stomach. Vibrant smoked salmon sat atop a deep green kale; all hosted by soft, supple crumpets. Perfectly poached eggs oozed over the top accompanied by a little side of sweet caramelised witlof. Every mouthful was an absolute treat.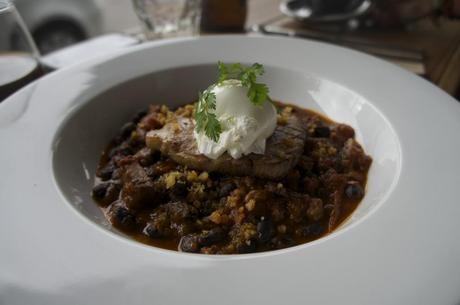 If it's warmth you're after, stewed black beans and chorizo will heat you to your soul. Topped with a thick slice of Otway pork, and garlic crumbs as a crunchy surprise, the dish offers savoury and hearty on a Winter's day. Addict has nailed presentation to its very essence, both in interior design and food. While this doesn't necessarily mean the food is good, in this case it just is. Flavours work well and large, complex and delicious dishes come at reasonable prices. A specials board to write home about and fabulous coffee will ensure my return; perhaps without the hangover next time.