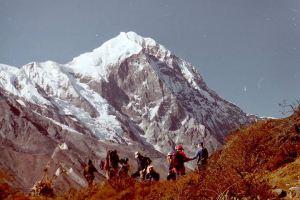 The open path before me
Walt Whitman put it best when he said, "Afoot and lighthearted, I take to the open road. Healthy, free, the world before me. The long brown path before me leading me wherever I choose. Henceforth, I ask not good fortune, I myself am good fortune. Henceforth, I whimper no more, postpone no more, need nothing."
Tomorrow I leave for Sikkim, a state in India wedged between Bhutan and Nepal. I will be officially off the grid. Incommunicado. Out of the loop. Trekking through the Himalayas. Skirting Kanchenjunga. Completely unplugged.
But just in case you want to follow our progress, one member of our group will be posting satellite dispatches to his website markursino.com.
Satellite dispatches. Don't you like the way that sounds? Feel free to follow along. Or not.
I have two radio shows "in the can," as they say. So enjoy Tracy Moseley and Lynne Cox in the next two weeks. After that, we'll see what happens. I'm up for anything.