I've been having a look at NYX's make up recently after reading a few reviews on blogs etc and was interested to try this shadow palette. It's part of their runway collection - retailing at £10 each, they have 16 different color schemes but I chose 'Versus' which is a collection of nudes, lilacs and purples to compliment my hazel-brown eyes. I find it quite hard to find shadows to suit me - I have great difficulty doing the whole 'smoky eye' look and often nudes just make me look washed out. Here's a few pics: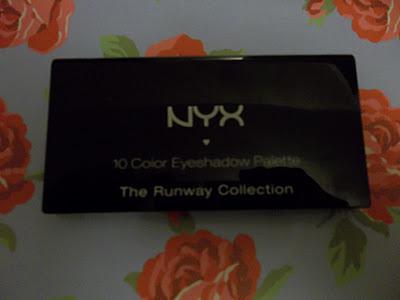 Apologies for the shadow!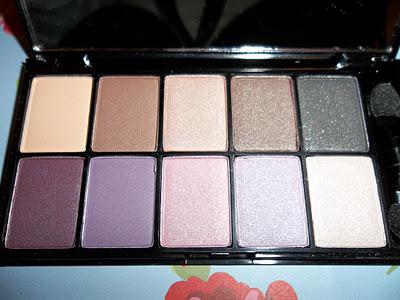 Colour pan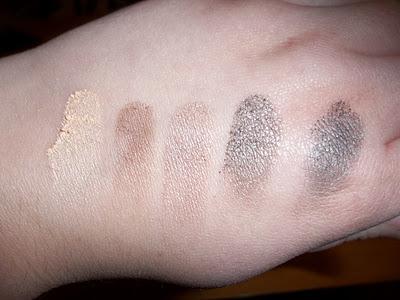 Top row swatches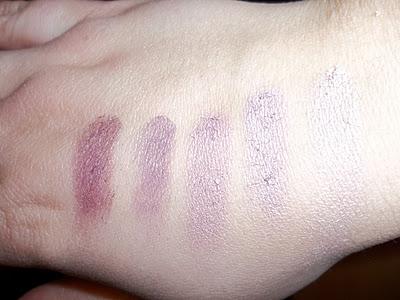 Bottom row swatches
I used my finger to collect the swatches - there is a double ended applicator but it's sponge and I don't like using those as I find it hard to build up the color. The shadows are lovely and soft and there is a good mixture of matt and shimmer shades. I don't like the buttery colour, and I wouldn't use the grey, but the rest really compliment each other and I like how they're slightly shimmery. When you give them a closer look you can see bits of glitter which I'm not keen on but I think this is fairly neutral compared to some of the palettes i've seen them selling in River Island. I'd use something like Urban Decay's Shadow Primer underneath them to make them last longer. I think it's a good price for the 10 shadows, especially when something like the Naked 2 is £36, which personally I can't afford to spend (shame though!).
What do you guys think of NYX? Is it an up and coming brand or a cheap imitator of other makes?