NYX Liquid Suede Cream Lipstick Vintage Review, Swatches and Price
Liquid lipsticks are the latest IT thing in the lipstick world, with every brand from drugstore to high end bringing out newer formulas and newer colors for this liquid lipstick market that seems to be surging these days. NYX liquid suede cream lipstick Vintage is what I got my hands on during my latest haul from US. I wish now I had bought more of these.
What NYX says about Liquid Suede Cream Lipstick
Doll up your lips in plush and vibrant color! Our Liquid Suede Cream Lipstick glides on and sets into a striking matte finish. Velvety soft and waterproof, this long-lasting lippie creates a positively polished look with every swipe.
I get excited everytime I hear a brand launching liquid lipstick but it also kind of scares me because I have dry dry lips and as much as I love matte lipsticks I am not a fan of dry lipstick formulas that make talking a big a pain. So before ordering this lipstick I ran a check on the ingredient list and was immediately sold as it contains olive oil, avocado oil and glycerin, among other ingredients.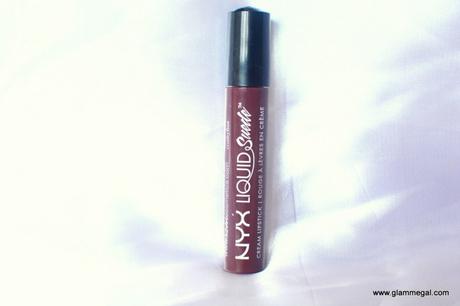 NYX liquid Suede Cream Lipstick Vintage Review
Price is $7 USD, which I found to be reasonably priced considering the amount of product is 0.13 oz.
The packaging is standard as is for any liquid lipstick, similar to how lip glosses are packaged and the doe foot applicator is longer though not very thick which I found interesting since it allows to fill the lips faster and the thin size of applicator allows for precise application.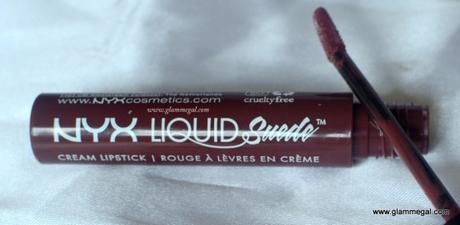 NYX liquid Suede Cream Lipstick Vintage Review
The formula in itself is very creamy and thin in texture, while I was expecting it to be a more thicker formula since its a cream lipstick, but that is not an issue at all, infact I did not need to double dip my wand to cover my lips, the color is so pigmented I was actually surprised I thought I would need to apply it twice atleast, to get a pigmented look. Vintage is a mix of mauve and brown, its not a true brown lipstick. Its a mix of brown and mauve.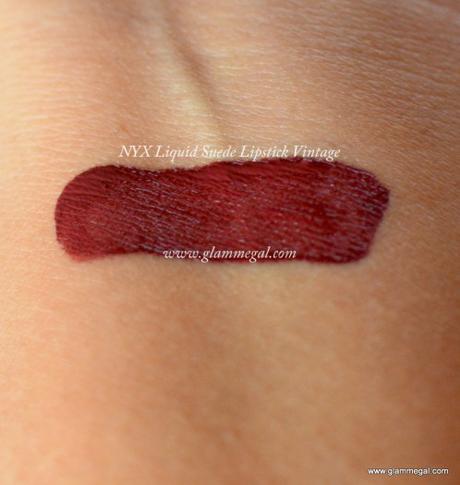 NYX liquid Suede Cream Lipstick Vintage Review
I have used this lipstick in my Beyonce inspired makeup tutorial on Youtube, incase you are interested in watching me put it on you can watch the video.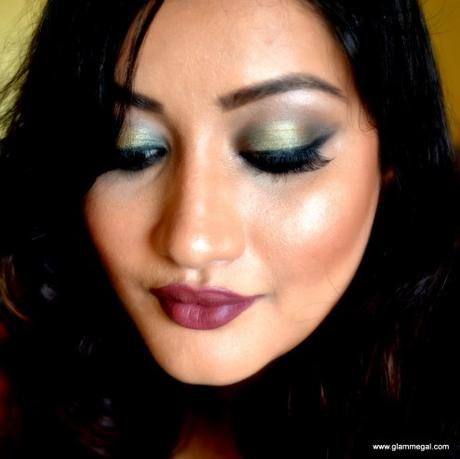 NYX liquid Suede Cream Lipstick Vintage Review
The color is pigmented but the lipstick itself takes some time to dry and it retains a sheen on the lips for quiet some time and even after that it doesnt dry completely to the point where it is transfer proof. But it sits on the lips very comfortable and is not drying and heavy feeling. I really hate it when I feel the lipstick on the lips. This is a light weight formula and is very comforting on the lips.
Its a waterproof formula and generally waterproof products tend to get off patchy and that was a concern for me since after having a meal the lipstick does need a reapplication specially with a darker lip color you tend to look weird with the center of the lips not having any color, so it wont survive a meal. Otherwise it is fairly long lasting. It wore a good 5 plus hours on my lips.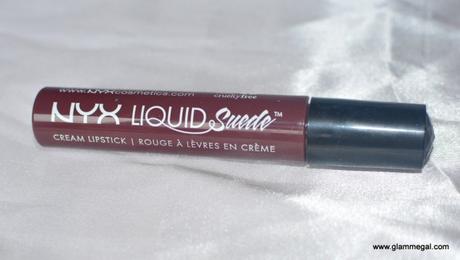 NYX liquid Suede Cream Lipstick Vintage Review
So the good and the bad about NYX liquid suede cream lipstick vintage would be its a good formula fairly long wearing and the applicator is great. My only concern is that it is not transfer proof other than that nothing really bothers me too much. I like that it is not drying on the lips. And I would like to point out that the texture and consistency is very very similar to Estee Lauder Liquid lipsticks but for a fraction of the price. I wanted to pick up the Estee Lauder one but since they were not transfer proof I relented, and for the price close to 3000 they better stay for 24 hours. LOL!
So final words on NYX liquid suede cream lipstick is that I love it and I would like to repurchase some more colors from this Suede Cream Liquid Lipstick.
Related
You Might Also Like
COVERGIRL LIPSTICK REVIEW : ETERNAL 350
MAYBELLINE PARK AVE PEACH LIPSTICK : MLBB LIPSTICK
COVER GIRL LIPSTICK IN 260 HEAVENLY REVIEW
MAYBELLINE LIPSTICK IN VIVID ROSE 875
MAYBELLINE COLOR SENSATIONAL VIVID LIPSTICK IN HOT PLUM
DEBORAH MILANO RED FUCHSIA BOLERO 8 LIPSTICK : REVIEW
L'Oreal Infallible Lipstick In Refined Ruby 337 : Review
Gerard Cosmetics Tequila Sunrise Lipstick Review Swatches Price
Tags:
90s lipstick, brown lipstick, dark lipstick for indain skintone, dark lipstick for medium skintone, dark lipsticks, drugstore liquid lipstick, fall lipstick, how to apply dark lipstick, kylie jenner lipstick, lipstick swatches, liquid lipstick, nyx liquid lipstick vintage review price swatches, nyx liquid suede cream lipstick review, nyx liquid suede cream lipstick vintage, vintage liquid lipstick