I just want to start by saying the only reason I went to Ulta yesterday was because I got a $5 off $10 coupon in my email. Click here to get yours --->( $5 off $10 purchase @ Ulta ) This is usually what happens to me. I'll be minding my own business and BOOM! SALE! It's tragic how good these stores are at getting people like me in there to shop...Lol! 
I can spend $10 in a split second so I knew I'd find something good. I saw a lot of items were on sale throughout the store and of course I went to see what was new in the makeup section. NYX Cosmetics had, on display, these 5 gorgeous lip glosses along with new lipsticks, eye crayons and pencils. I went straight for the lip glosses! They're called "Glam Gloss"  & they're part of the Aqua Luxe line, I think that's right.  Anyway, they looked like glittery eyeliners but in lip gloss tubes. I only saw 5 but went online to see they actually make 11 total. There were only 3 Disco Playground glosses left, everything else was sold out. I asked the cashier when they'd be getting more in stock and she said next Thursday when they got a new shipment. That means they came out in the morning and were sold out buy 4:00 when I got there!! I'm not surprised because they are GORGEOUS!!  I was able to swatch them out really quick in the store (I have no shame) and take pics! Naturally I wanted all of them and will be going back next week when they open to get more.  They retail at $6.00 but I also picked up a NYX cream shadow in Gun Metal (for a base when I do my grey smokey eyes) and a bag of 200 cotton balls for $1.29 that was also on sale from $2.99. All of this for just $5.41, after tax ;-) The $5 coupon is good until tomorrow and they also have a 20% off 1 item that's also good for today & tomorrow. Click here to print it---> 20% off 1 item @ Ulta



I was happy to scoop up the only shade left because I don't have a lot of gold lip gloss. This is something I'd wear in the summer but also over other products to shine them up. This would be nice to wear with a smokey eye (brown or dark) instead of a pale/nude pink lip. It looks like pure gold on my lips, so pretty! It catches light so well too.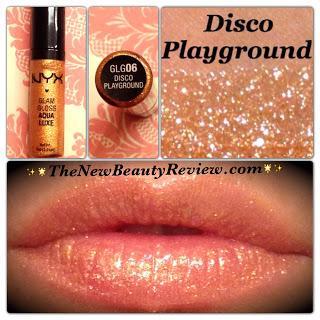 Keep it Prettie!
*Stephanie*